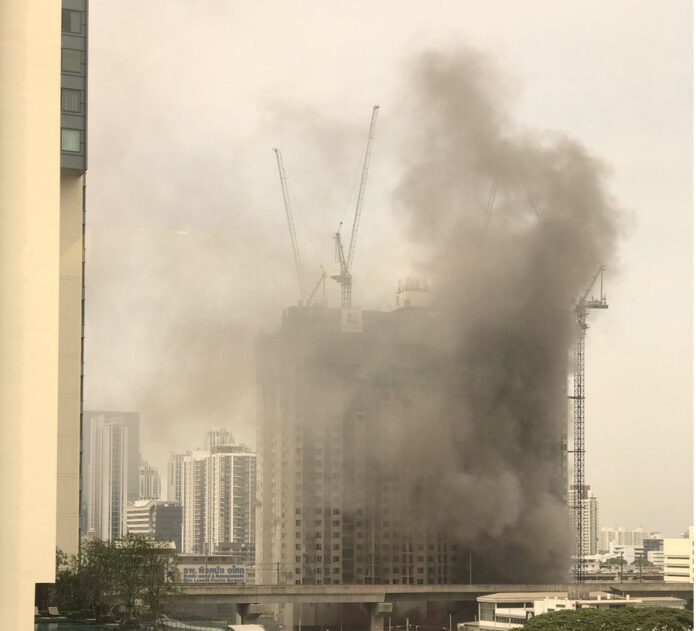 BANGKOK — Firefighters quickly extinguished a blaze at the site of a high-rise luxury condominium in Bangkok on Wednesday afternoon.
Soon after columns of smoke rose above the construction site at the intersection of Asok-Din Daeng and Kamphaeng Phet 7 roads, fire crews had mostly extinguished the flames and traffic had resumed after coming to a standstill.
"A worker was welding metal when one of the sparks lit a pile of rubber ablaze," police Col. Ruetee Pandum said Wednesday evening. "Everyone, including the welder, ran out in time and no one was injured."
"It was rubber, so there was a lot of really black smoke but the flames weren't that large," Ruetee said. "Firefighters only took five minutes to put out the flames. By the time I got there, all of them had left already!" he laughed.
A 35-story condominium, Life Asoke, is being built there by developer AP Thai.
@js100radio 14:15 ไฟไหม้ตึกกำลังก่อสร้างแยกอโศกเพชรครับpic.twitter.com/3Ldjmu7w3m
— katopz (@katopz) April 5, 2017
14.40 ไฟไหม้อาคารกำลังก่อสร้าง ใกล้โรงพยาบาลผิวหนังอโศก เขตห้วยขวาง จนท.ดับเพลิงกำลังดำเนินการ (คลิปจาก : E23XDD@คำรพ๑๐๗) pic.twitter.com/ZssZiNtGqe

— JS100 (@js100radio) April 5, 2017
@js100radio รถดับเพลิงมาแล้วครับ pic.twitter.com/vhglggAE7f

— Thanes Pakdee (@ThanesJib) April 5, 2017
@js100radio พบกลุ่มควันไม่ทราบสาเหตุ บริเวณสี่แยกพระรามเก้า หน้าตึกฟอร์จูนค่ะ pic.twitter.com/lzsbb3M8YH

— แมวเหมียว (@miow052) April 5, 2017