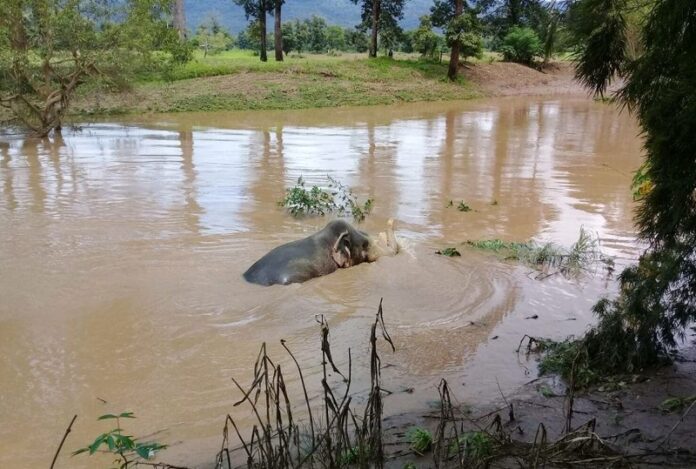 Update: The elephant was rescued Wednesday afternoon, according to media reports. She was being taken to an elephant hospital in Lampang province for treatment before being freed back into the wild.
PHITSANULOK — Park rangers were still trying to rescue an elephant trapped in a Phitsanulok province creek it was swept into Tuesday by flash flooding that killed a park official elsewhere.
After an overnight rescue operation, rangers Wednesday were able to move the elephant closer to shore. She appeared to be exhausted and could not climb out herself. One of her legs appeared to be injured, and she had trouble keeping her head above water.
The elephant was found by local residents a kilometer from the entrance of the Thung Salaeng Luang National Park. She was among many victims affected by heavy rain and flash floods which have inundated 500 households in the northern province's Noen Maprang district since yesterday. Some residents have been evacuated.
Before the flooding hit, disaster officials had warned 34 provinces in the northern, northeastern and central regions – Phitsanulok included – to prepare for rising water levels, but no evacuation warnings were given.
The head of the Pha Daeng National Park in Phetchabun province was found dead yesterday after a flash flood swept away his pickup truck.
Six people have been killed in the ongoing flooding since Oct. 10, disaster department Director-General Chayaphol Thitisak said today. It has affected almost 200,000 people in 13 provinces.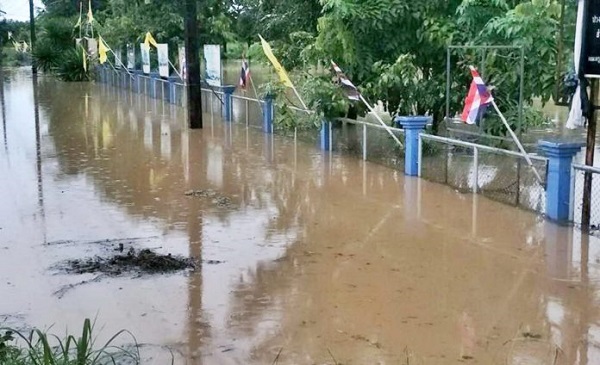 Related stories:
Why Was Bangkok Not Warned of Flooding?
Heavy Rains Leave Bangkok Swimming in Floods
As North Floods, Major Dam at 100% Capacity