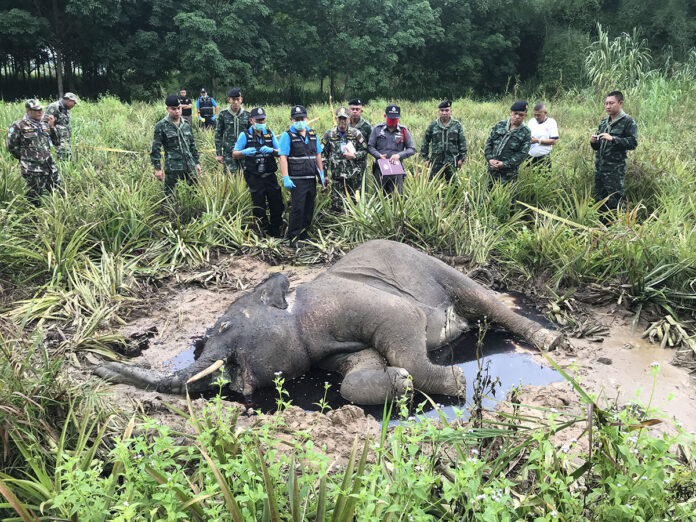 PRACHUAP KHIRI KHAN — The body of an elephant found in a pineapple field is the latest in a series of pachyderms killed after they wandered across national park boundaries to forage on farmland, an environmentalist said Thursday.
After a 10-year-old bull with 30-centimeter tusks was found dead in the Kui Buri National Park, the president of an elephant conservation group said at least six have been slain since 2011, with two killed this year alone.
"This will keep happening because there are still elephants in the forest, and the criminals have not been arrested. People and elephants are fighting over land to this very day," said Laitongrian Meephan of the Phra Kachaban Foundation.
Police believe it died of natural causes.
Wild elephants are a persistent nuisance to farmers, who deploy everything from electrified fences to defensive beehives to keep them off their land. From time to time, the animals are shot dead.
The elephant's body was found last night in Boonlert Ngamdee's pineapple field near in the Sam Roi Yot district of Prachuap Khiri Khan province. It had been dead for at least 48 hours. There were signs of a struggle as well as a 8-centimeter wound along his left thigh.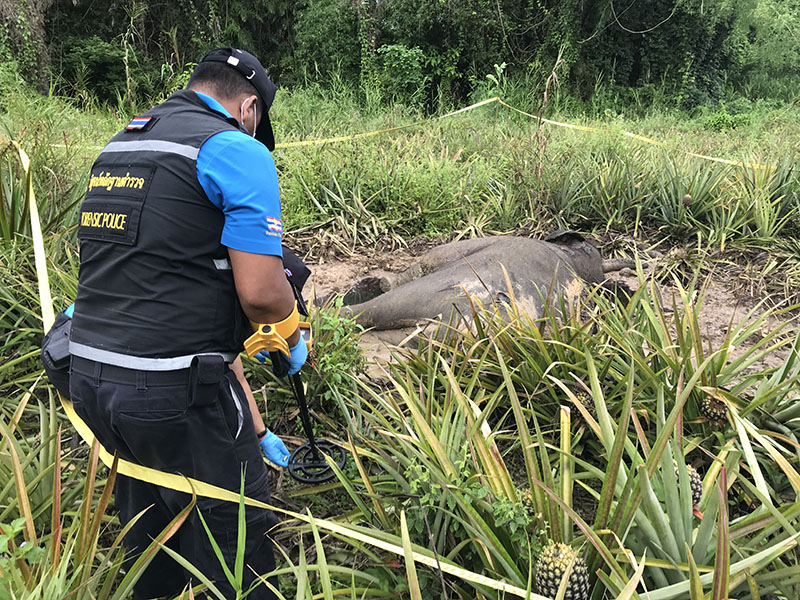 "Normally this elephant sticks with a herd of seven, but lately he's been distancing himself from the group, like he was injured and couldn't keep up," Charuvat Nuksiri, a parks officer said. "There's no phone signal in the mountains here, so it's hard to coordinate officials to help."
Most of the elephants shot dead by farmers near Kui Buri are 10- to 12-year-old males, since adolescence sees them leave their herds to become vulnerable loners.
Capt. Somchai Yoddamnernkul led a team of specialists who scanned the elephant's corpse for metal Thursday morning. He said no bullets were found.
"We can presume for now that he was fighting another elephant and was stabbed with his tusks. Then the wound probably got infected, and he died," Somchai said.
Police are awaiting an official autopsy report.
Laitongrian said that from the farmers' perspective, elephants are invading their fields; on the other hand, environmentalists' see farmers as the ones encroaching into the elephants' habitat.
"National parks should hurry to find a way for wild elephants, local farmers and officials to coexist and stop the killing of elephants as soon as possible," Laitongrian said.
The environmentalist said that elephants only exit the forest and forage when no food is available, which should not happen during the rainy season, signifying that forest conditions are abnormal.