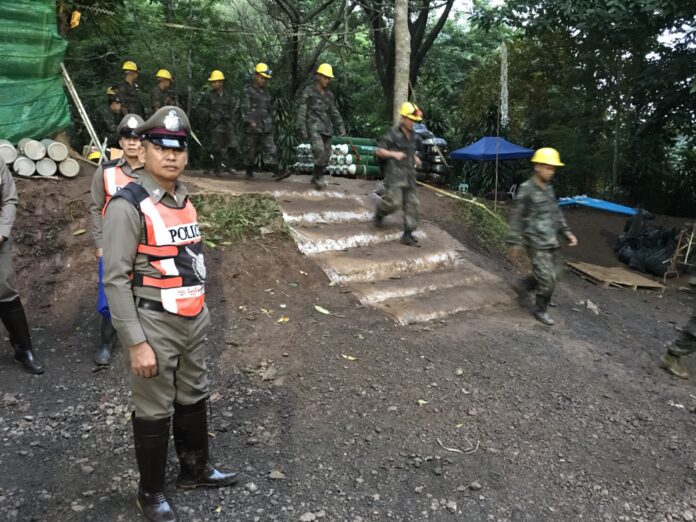 By Jintamas Saksornchai and Todd Ruiz 
CHIANG RAI — The boys should be brought out of the cave today, the head of the rescue operation said Saturday.
Read: Rescued! First Two Boys Rescued From Cave
Divers are becoming faint inside the cave where 13 people are trapped as falling oxygen, rising carbon dioxide and an expected surge in water levels pose potential disaster to the cave rescue effort.
Operations chief Narongsak Osottanakorn said that bringing the boys out could begin today if their health and other conditions are favorable.
"I'm worried that if it rains and the water level increases, it might reach the [sand beach where they're trapped]," he said. "Therefore, if today or in a few days, the weather is good or water is dropping, factoring in their health and readiness. We will discuss in great detail if we will be able to bring them out."
He insisted the 12 young footballers and coach remain in good shape and spirits, in line with consistently optimistic public statements.
A former navy SEAL died yesterday while trying to maintain the supply line of oxygen tanks required to make the five to six hour dive to reach the boys and coach.
A lot of people crowding – and breathing and exhaling – inside the small cave has exacerbated problems.
Narongsak said some rescuers and divers would be pulled out to help stabilize the level of oxygen as more air tanks and an air hose are brought in.
Teams will continue to scour the hills above for chimneys, drill for new ways in and divert water away from the cave, he added.
Belgian diver Ben Reymenants who had helped locate the boys was returning to the operation today, according to his Facebook post.
Expert British divers are leading the rescue effort in the last and most perilous stretch of the dive. Narongsak said more experts are coming to reinforce the effort tonight and tomorrow.