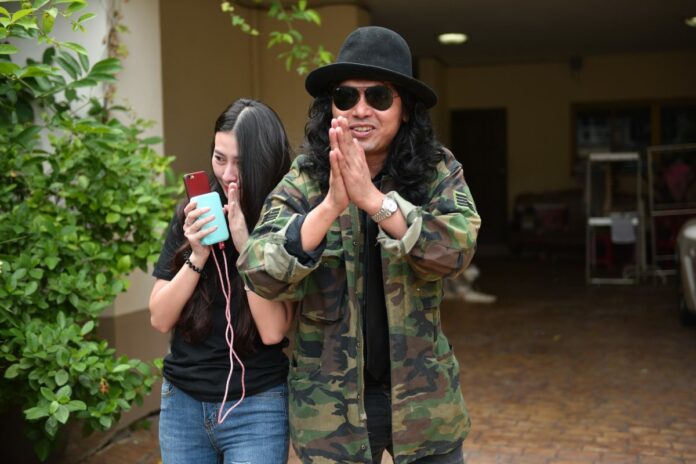 BANGKOK — Rocker Sek Loso was forcibly checked into a hospital by his girlfriend and ex-wife over the weekend, his family said Monday.
Seksan Sukpimai, or Sek Loso,'s ex-wife Wiphakorn Sookpimay and his girlfriend Apisaya Pattanaworasap, led an effort to subdue the rockstar and check him into a hospital. It followed five days during which he frequently livestreamed his bizarre behavior on Facebook, prompting national concern and speculation about his mental health.
"Mission complete," posted Apisaya on her Facebook page at about 5am on Sunday.
One of Sek's family members, who spoke on condition of anonymity to Khaosod, declined to give the name of the hospital but said it wasn't a center for drug abuse. They said Sek was put in a headlock after a first attempt to take him to the hospital Thursday.
"On Thursday, [Apisaya] gave the green light and we prepared with our van and team, but the security guard wouldn't let us in, even after we waited until 2am," the family member said. "[On Saturday], [Apisaya] gave us the green light again. This time we were prepared since noon and finally got to him at 8pm. We got him out at about 9pm."
Apisaya and Wiphakorn keep in touch regularly, since the ex-wife manages her three children's tuition. The women allegedly led the effort after Apisaya called Wiphakorn for help Aug. 13.
"He will use his smart brain to trick everyone and hide his emotions, as we see in the livestreams," Wiphakorn wrote on Facebook. "But did you know he's in the final stages of bipolar disorder? After this, it's suicide. What do you want me to do?"
Sek's family said they would hold a press conference today to answer questions and clear up misunderstandings.
Related stories: