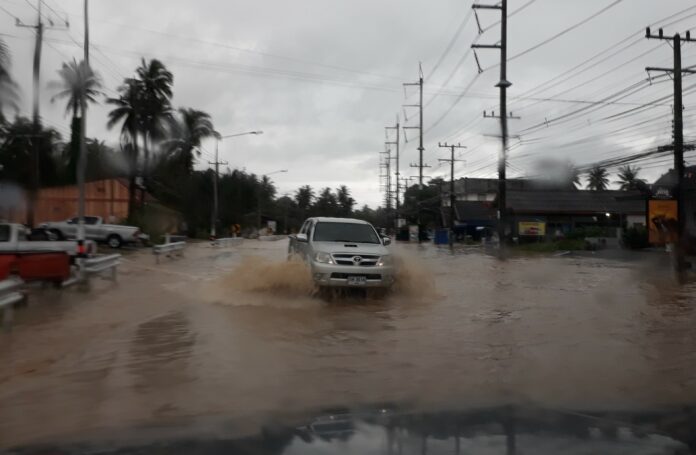 PRACHUAP KHIRI KHAN — Streets turned into fast-moving rivers as flash floods triggered by the heaviest rainfall in decades struck the southern coastal province of Prachuap Khiri Khan, killing two and affecting thousands.
Although the water levels have started to decrease, several communities in four districts of the province remained cut off Monday after flooding and landslides destroyed a number of roads and bridges during the weekend. A toddler drowned and a woman died after being unable to make it to a hospital.
In the worst-hit district of Bang Saphan Noi, 21 people including a toddler were rescued this morning after three days stranded atop a hill without food or water near the Ban Tha Yai community after 237 millimeters of rain fell Friday. More torrential rain and subsequent flooding had blocked their escape.
Since 2003, Prachuap had experienced no single-day rainfall over 200 millimeters until 2017, according to the National Weather Service.
ขาด! สะพานช่องกระปีดหมู่9 ต.ร่อนทอง อ.บางสะพาน จ.ประจวบฯ ถูกน้ำซัดพัง นายสมชาย สายสกล ผู้ช่วยผู้ใหญ่บ้าน ระบุว่า น้ำมาอย่างรวดเร็วจากภาวะฝนตกหนักต่อเนื่อง เข้าท่วมพื้นที่แปลงเกษตรของชาวบ้าน ซึ่งอยู่ริมแนวคลองเพลิน/ น้ำก้อนนี้จะไหลไปยังคลองที่เข้าตลาดบางสะพานในตัวเมือง (16:20) pic.twitter.com/08dSXX4FpV

— Pat_ThaiPBS (@Pat_ThaiPBS) November 9, 2018
At Ban Lang Mook in the same district, about 220 households were trapped after high-running water cut off seven roads. According to residents, rescue teams with relief packages and food supplies were able to reach the community for the first time today after floods first hit them Friday.
It was the second year in a row that Prachuap experienced devastating flooding.
More than 300 people also face a shortage of food after six roads and bridges to Ban Chong Lom were damaged by flash floods Thursday, according to the community chief.
About 3,500 households and 10,000 people in Prachuap Khiri Khan City, Bang Saphan, Bang Saphan Noi and Thap Sakae districts have been affected by the latest disaster, said Chayapol Thitisak, director-general of the disaster department on Sunday.
Provincial Gov. Pallop Singhaseni said a 2-year-old boy drowned in the floods, and a 60-year-old woman died en route to a hospital after she was delayed by road conditions.
The province was hit by torrential rains Thursday and Friday, with the highest accumulated rainfall in Bang Saphan Noi district reaching 237 millimeters in 24 hours. The rain stopped Saturday and water levels are falling, allowing residents and work crews to start clearing and rebuilding.