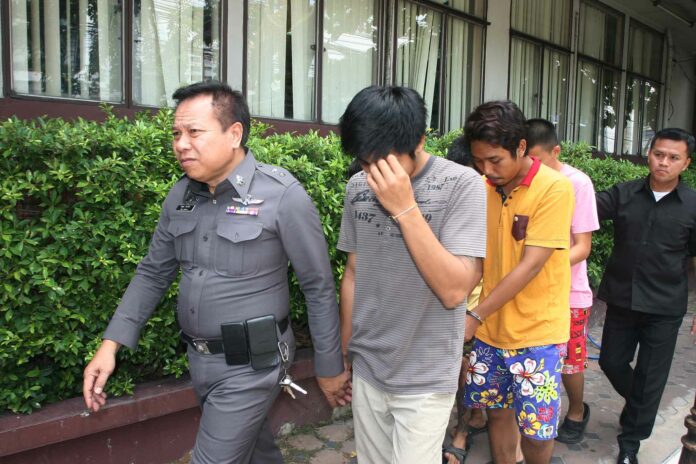 BANGKOK — Seven people stabbed and killed Somkiat Srichan in broad daylight two months ago as he plead for mercy, yet when the day comes they go to trial, it will be for second-degree murder and not premeditated murder.
The announcement Monday that prosecutors would file the lesser charge against the suspects, four of whom are sons of police officers, disappointed family members of Somkiat, a disabled man who was selling bread when he was killed May 1.
"I tried my best, but the prosecutor ruled that [first-degree murder] didn't fit the crime, so the charge was not included," Matus Phonprasert, Somkiat's nephew, said Tuesday. "Personally, I am very disappointed. Not only me. My entire family is disappointed, too. My lawyer is also disappointed."
'I Watched Him as He Died,' Witness to Disabled Man's Murder Recalls
On Wednesday the seven suspects will be brought to court to be formally indicted. They are Arin Yodponganan, 20; Peerapol Yodponganan, 20; Monmanat Sangpho, 22; Akkaradet Thatsana, 22; Mek Polkraisorn, 19; Natnicha Ritlamlert, 19; and Jatuporn Chansopha, 18.
All seven have been held in prison since their arrest in the days following the murder.
Matus said he's afraid that the suspects will spend little time behind bars, even if they are convicted of second-degree murder, which carries a penalty ranging from 15 years in prison to execution. First-degree murder, on the other hand, has only one penalty: death.
In Thailand, guilty defendants rarely receive maximum sentences – especially if they confess – and may be eligible for royal pardons handed down on important dates related to the Royal Family.
"Their sentence will be reduced many times, and they will be out of jail soon," Matus said.
The gruesome killing of Somkiat on May 1 started when the six men, who were drunk at the time, walked past the bread stall where Somkiat was working and jeered him. When he shouted back, they attacked him with knives and blades and ran Somkiat down when he attempted to hop away on his one good leg. A girlfriend of one of the six men also screamed at them to kill Somkiat.
Somkiat's attackers took 20 minutes to kill him; one even retrieved a weapon from a motorcycle.
The whole thing was captured on video that later went viral on social media, drawing widespread outrage. Like other cases involving the rich and the well-connected, much of the attention was focused on why police seemed to spare the six suspects from the full brunt of the law; namely, the decision not to charge them with premeditated murder.
Both police and prosecutors determined the crime does not meet the standard of premeditated murder because it happened spontaneously.
"The crime happened spontaneously without premeditation and deliberation that was followed by the wrongdoing," Somnuek Siangkong, a spokesman for the Attorney General, said Monday. "So the prosecutor will not file an extra charge of premeditated murder for now."
Ananchai Chaiyadech, the lawyer representing Somkiat's family, declined to comment on the decision, other than to say he was "disappointed."
"I'm not happy. The evidence is so strong. Their actions were definitely premeditated. They were armed. I'm really disappointed," Ananchai said.
Matus said his family will be present to see the suspects indicted Wednesday, where they will ask the court to deny them release on bail.
After Wednesday, no other court dates have been set.
Correction: An earlier version of this story misidentified the charges filed against the seven suspects. They were charged with second-degree murder, not manslaughter. We regret the error.