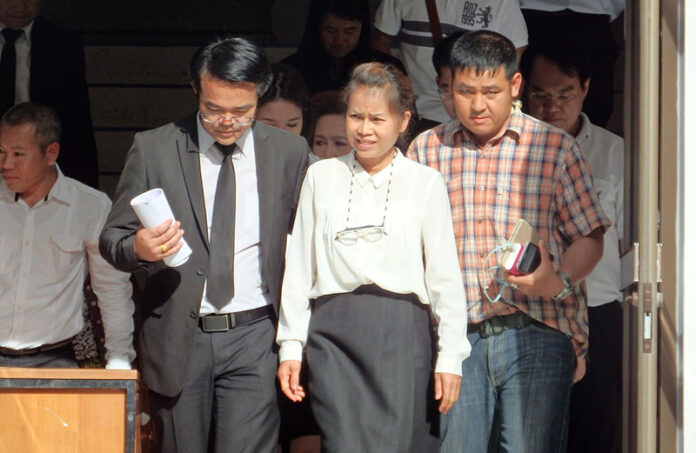 NAKHON PHANOM — Key witnesses failed to appear in court Monday at a hearing for a woman seeking to overturn her conviction for a crime she says she didn't commit.
Neither the man who allegedly has confessed to the fatal hit-and-run for which Jomsap Saenmuangkot went to prison nor another witness appeared at the Nakhon Phanom Provincial Court, as police dispute she was wrongfully convicted.
Jomsap, who gained public sympathy in televised interviews about the case last week, was rescheduled to appear in court Feb. 8 with Sap Wapee, the man she said confessed to the 2005 crime after being tracked down with help from the Department of Special Investigation.
He was one of two witnesses, along with Tassanee Hanpayak, expected in court this morning.
Jomsap was jailed in late 2013 after losing a long court battle. She was freed in 2015 on a royal pardon after spending a year and a half in jail. She's now seeking a retrial of her case and compensation for wrongful imprisonment.
Read: Thai Teacher's Tale of Injustice Ignites Public Sympathies
An anonymous police source sought to cast doubt on Jomsap's story, telling Thai PBS that she had tried to pay another man to confess before learning he could not drive. On Tuesday, Panya Mamen, a former regional police commander recently elevated to general, said some people had been offered money to take the fall for Jomsap.
Col. Mana Pohchuay, commander of Thung Song Hong police, rejected Jomsap's claims that police misconduct led to her conviction, saying her case was investigated by the book, and that their conclusions were supported by witness statements and evidence.
Jomsap has maintained she was not guilty of the hit-and-run, saying she was at home in a neighboring Sakon Nakhon province at the time. Jomsap pleaded not guilty in the case even though it was to lessen her jail time.
A Royal Thai Police spokesman said justice must be rendered to all sides, including the family of the original hit-and-run victim.
"This case is only one of the many that happen each day. Actually the police don't need to spell this out, but the news of this case is presented in a way that damages the image of the police," Piyapan said.
He said the 10-year case against Jomsap was pursued correctly, and the fact it can be reopened is proof of a functional justice system.
National police chief Gen. Chakthip Chaijinda said that if a retrial finds fault with the police, Jomsap will be compensated. However if it turns out Jomsap submitted a false report or was indeed guilty, police may press criminal defamation charges against her.