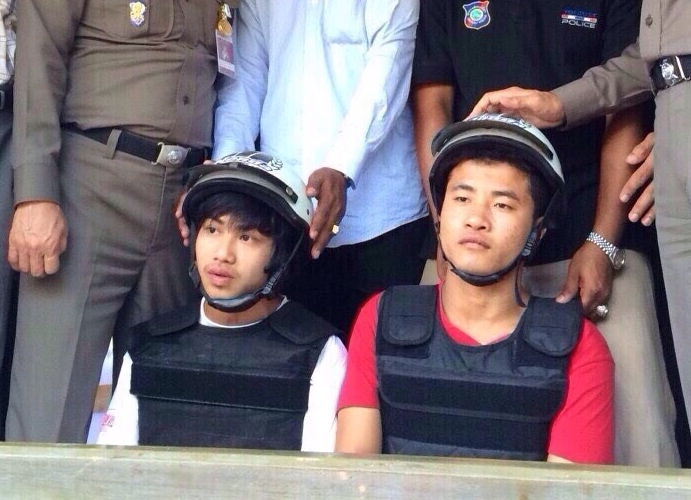 KOH SAMUI — The Appeals Court on Wednesday announced its decision to uphold the death sentences for two migrant workers convicted of a brutal 2014 double homicide on Koh Tao.
In its ruling, made secretly on Feb. 23, the Koh Samui court said evidence presented by the state in the original trial was adequate and reliable, and therefore declined to overturn the December 2015 verdict condemning two Myanmar men to die for the deaths of two British tourists.
The ruling came as a surprise to defense lawyers, who said they had no knowledge the court made a ruling last week, which it apparently relayed to their clients without notification.
"We will definitely petition the Supreme Court," defense lawyer Nakhon Chompuchart said Wednesday afternoon, adding that he could not comment further because he had not yet seen the decision.
Koh Tao Murders: Lawyers Appeal Against Death Sentences
Zaw Lin and Wai Phyo, migrant workers on the island, were convicted of the September 2014 murders of David Miller and Hannah Witheridge largely on the basis of DNA traces police said were recovered from the crime scene and Witheridge's body. No other physical evidence or witness testimony directly linked them to the crime.
The defense was never allowed to independently test the evidence on its own, and cast doubt on the integrity of the police investigation. The trial came after an investigation widely criticized for unprofessional bungling, and accusations that desperate investigators arrested two men on the margins of society for use as scapegoats.
The two are being held at the Bang Kwang Central Prison in Bangkok and were not in court today.
Unlike the lower court, no witnesses were called during the appeals process; instead, the court simply "reinterpreted" evidence and testimony already entered into the record during trial.
The appeal filed in May by the defense team said the prosecution lacked hard evidence implicating Zaw and Wai, such as documents or photographs. Moreso, it said police collected evidence unlawfully and not in line with international standards.
Police have consistently denied misconduct in their handling of the evidence and rejected accusations that torture was used to extract confessions in the case.
Related stories:
Koh Tao Convicts 'Still Hopeful' as Appeal Looms
Koh Tao Murders: Defense Asks Court to Drop Charges
Koh Tao Murders: DNA on Weapon 'Does Not Match' the Accused
Lack of Evidence, Local Media Coverage Adds to Mystery of Koh Tao Murder
Koh Tao Trial Resumes, Court Shown Footage of Victims' Final Night
Koh Tao Murder: Top Forensic Scientist to Testify for Defense