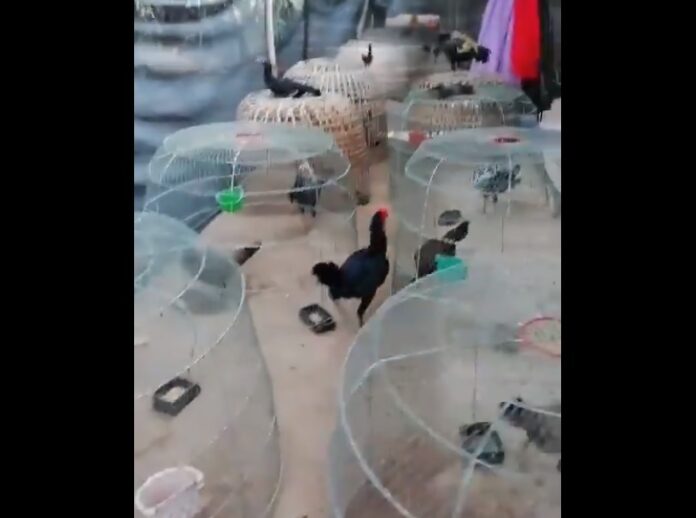 PRACHUAP KHIRI KHAN — Anti-corruption activist Srisuwan Janya said he will petition the anti-corruption commission Tuesday to investigate alleged mistreatment of two military conscripts reportedly ordered to raise chickens for an officer's personal benefit.
The decision followed an 11-minute video posted online last week showing an unidentified man's claim to be in servitude along with another man pressed into the military raising dozens of chickens for the personal gain of their unnamed superior officer.
"I volunteered by heart [to become a conscripted soldier]. I want everyone to know that I love being a soldier, but this is what I get," he says in the video. He also alleges that his superior curses at him and slaps him in the face if the animals are unhealthy or get injured from fighting one another.
The video was uploaded by Facebook user Kawloon Lainoi and was reshared by vigilante Facebook site Palang Social. It has been watched more than 1 million times by noon on Monday.
Srisuwan, who heads the Constitution Protection Association, said an independent investigation into the matter is needed to prevent future power abuse and to punish the alleged wrongdoer. Srisuwan added that he would also petition the Ombudsman tomorrow.
The conscript says he doesn't want any soldier to suffer his fate, as he shows a bamboo bed placed on an earthen ground surrounded by chicken pens and roaming poultry. He adds that there is no toilet and that him and his mate have to go to the jungle to relieve themselves. The soldier says he's at Thanarat Infantry Camp in Prachuap Khiri Khan province.
"There's nothing I can do. I am just a soldier but he has a rank… I want others to know that this is the wrong way of utilizing soldiers, but I can't do anything," he says. "I can't bear it anymore. I have been here for nearly six months and my mate and I are slapped and verbally abused every day. I can't accept this."
The soldier says that he and his mate are falling ill, but that the wellbeing of the chickens is more important to his superior.
"At first I thought the chickens were raised for the benefit of the [soldier] company, but the truth is that they're not… I don't want those who will come after me to be troubled like this."
Army spokesperson Col. Winthai Suvari said on Saturday that the soldiers were merely asked to do a favour for his superior. However by Sunday, he said an investigation would be launched to look for possible misconduct.