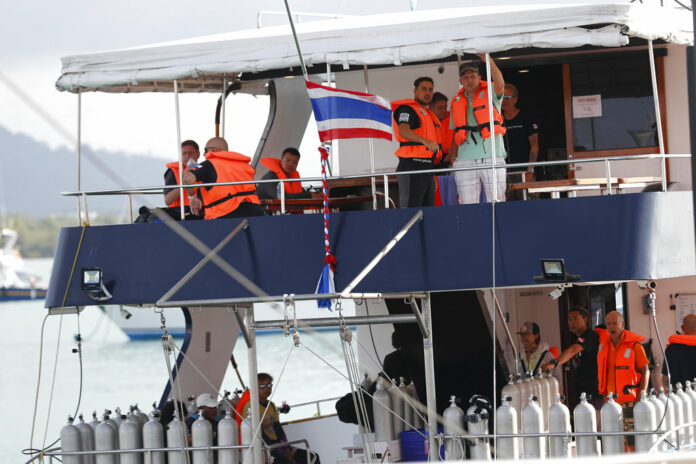 PHUKET — The body of the final victim of a sunken Phuket ship was recovered Sunday evening from beneath the wreck as authorities stepped up legal action and inspections.
After being trapped under the shipwreck for 10 days, the 47th and last casualty of the double-decker Phoenix, which capsized July 5 off Phuket, was retrieved by international divers at about 7pm and received by family members and the Chinese ambassador. Thai officials meanwhile vowed for the prosecution of culprits and tougher regulations to prevent such tragedy from reoccurring.
Maj. Gen. Surachet Hakpal, deputy chief of the tourist police, said he interrogated the chief executive of the company operating the ship, who turned herself in Saturday. Although he suspects her to be just a proxy shareholder, he said he hopes this investigation will lead to the prosecution of everyone responsible.
Police said the 26-year-old company chief has been criminally charged for negligence leading to death and was refused bail.
Surachet added that the local marine chief has been transferred and would be probed for misconduct, while staff from related government agencies would also be investigated and face negligence charges. He promised to tighten up enforcement of safety regulations.
"We will begin the inspection of these vessels with the Marine Department," he said, adding that the Phoenix boat was found to have failed safety standards. "Any ship considered defective has to be fixed accordingly."
Earlier on Sunday, Phuket Governor Norraphat Plodthong and regional navy commander Vice Adm. Somnuek Prempramote visited the main ferry port of the island to inspect how travel agencies are operating ships, and said a new system is needed for better coordination and management between related government departments.
Related stories: