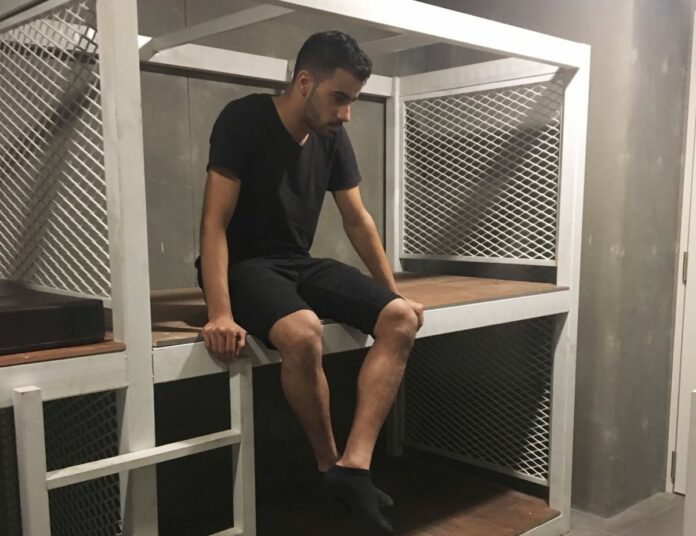 Update: Bahraini Football Player Moved to Jail Before Extradition Hearing (Video)
BANGKOK — Thai authorities have approved an arrest warrant for a detained Bahraini footballer with Australian refugee status, kickstarting extradition back to the home country he fled after alleged torture.
According to a human rights watchdog, the Bangkok Criminal Court on Friday approved an arrest warrant for Hakeem Ali Mohamed Ali AlAraibi, a Bahraini footballer who was taken into custody at Suvarnabhumi Airport last week and prevented from flying to Australia, where he has political refugee status.
"There's imminent concerns that Thai authorities aren't listening and will send him to be tortured while violating international law," Sunai Phasuk of Human Rights Watch said. "If we can contact Big Joke, we will know for sure when the extradition process is initiating," he said, referring to Surachet Hakpan, commander of the Immigration Bureau Police.
Sunai said that Human Rights Watch believes that the court approved the warrant based on Bahrain's extradition request. Immigration Police could not be immediately reached for comment.
FIFA itself issued a request for AlAraibi to be returned, an unprecedented move by the ruling football body, said Sunai. The request was prompted by Human Rights Watch's warnings, he said.
Read: FIFA Supports Bahraini Football Player Detained at Suvarnabhumi
"One positive thing about all this is that he now has a lawyer. He was allowed legal counsel for the first time today, but it should have been earlier," Sunai said. On Thursday, AlAraibi was reportedly prevented from meeting with his attorney at the Suan Phlu Immigration Detention Center.
According to the Bahrain Institute for Rights and Democracy, AlAraibi said Thursday, "This might be my last message. I still don't know whether I will be deported to Bahrain tomorrow. I appeal to the United Nations, individual states, FIFA, footballers, and all people, as my fate is now in danger and my future will soon be over."
AlAraibi said that if he is deported to Bahrain, anything said by or about him should no longer be considered credible.
"I know what will happen to me and I know I will be tortured to confess things that I have never done. Please continue your fight to save me," he said.
Other refugee networks have also called for AlAraibi to be returned to Australia.
"It is outrageous that the Thai government is even considering the extradition request from the Bahrain government," Evan Jones, spokesman of the Asia Pacific Refugee Rights Network said. "To return Mr Al-Araibi to Bahrain would be disastrous and would most certainly breach their obligations under customary international law."
According to the London-based institute, AlAraibi was tortured by Bahrain authorities in 2012 allegedly for his brother's political activities and public criticism of the Bahraini royal family's alleged involvement in sports scandals.
AlAraibi, who now plays on Melbourne's Pascoe Vale Football Club, fled Bahrain to Australia in 2014 after he was sentenced to a decade in prison for allegedly vandalizing a police station, which he denies.
He was granted refugee status in November 2017, which allows him to live in Australia. He was first detained at Suvarnabhumi Airport on Nov. 27 and later moved to the downtown detention center this past Saturday. On Tuesday, a Thai court approved holding him for 12 days in Bangkok.
Related stories:
FIFA Supports Bahraini Football Player Detained at Suvarnabhumi