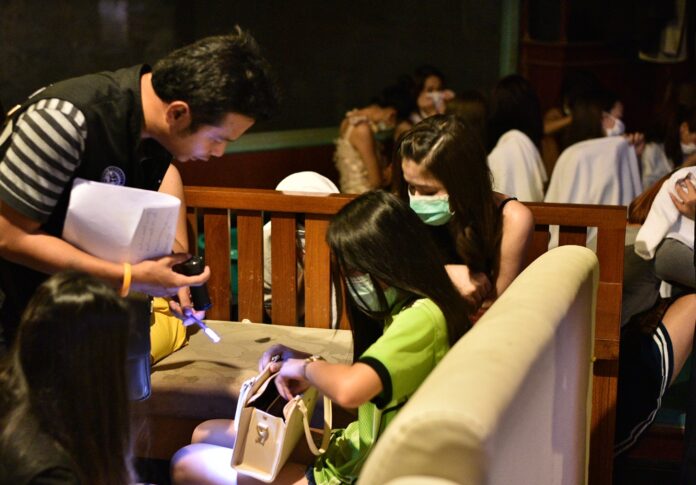 BANGKOK — Individuals whose nicknames and phone numbers were found in an alleged bribery ledger during a raid on a large brothel where underage girls were rescued from said they had nothing to do with the illicit business.
---
Underage Girls, Police 'Bribe Ledger' Discovered in Raid on Ratchada Flesh Parlor
---
Some of them said they weren't even aware that their names were in the booklet kept by the manager of Nataree Entertainment, where at least nine minors were found among more than 120 sex workers. The ledger purported to keep track of bribes the brothel pays to law enforcement officers each month.
Calls to eight numbers seen in the book were picked up by three men Thursday afternoon. None included figures of bribes with their names, and all disavowed any knowledge of the alleged bribes.
"I don't know. I don't know anything at all. I didn't even know my name is in it," said a policeman listed as "Uan," who declined to provide his full name. He said the only connection he had with Nataree was that he raided the place "five or six years ago."
"But I never received any bribe," Uan said.
The other two, listed as "Pae" and "Corporal Chai," said they are not police officers.
"I absolutely never took bribes from them. No bribe at all. You can check my background. I'm not even a cop," Pae said. "How did my number get in there? I'm confused."
Chai also expressed bemusement.
"I don't know anything about this. I don't know. I'm not a cop, too. I don't know anything. That's all," he said.
Other names – "Sgt. Naem," "Kung," "Nuum CSD," "Auan Police," "Maj. Buekbin," and "Nuum CSD 2" – either did not answer their phones or had them turned off.
Investigation Launched
The raid on Nataree, one of the so-called "massage parlors" which line the red light district of Ratchadapisek Road, was conducted not by police but officials from the Ministry of Interior Affairs, who said they were tipped off by a foreign NGO the brothel engaged in human trafficking.
In Wednesday's raid, they found 121 sex workers, mostly from neighboring countries. Nine were girls under 18, police said after the raid.
Also found was the ledger, filled with what appeared to be names of different police units and individuals, along with how much they were paid in bribes.
"Tourism Police, 10,000; 191 Emergency Police, 25,000; Special Branch Police, 30,000; Huai Khwang Detective Police, 24,000; Immigration, 76,000," read a portion of the list.
The head of the local Huai Khwang Police Station and his deputies have been transferred from active duty as punishment for not taking action against Nataree sooner. The Metropolitan Police Bureau said they would investigation the ledger.
"Every police station must be strict," interim metro police chief Sanit Mahatavorn said at a Wednesday news conference. "They shouldn't think they don't have to be strict on places that have licenses. They must see whether there's any prostitution at those places, especially if there's any people under 18. If there's wrongdoing, they must take action."
That portion of Ratchadapisek Road is one of Bangkok's few areas zoned by the government as an "entertainment district," along with Royal City Avenue and Patpong.
Related stories:
Thailand Wins 'Ig Nobel' Distinction for Bribing Cops not to Take Bribes
Corruption Catch-22: Report a Bribe and Go to Jail?