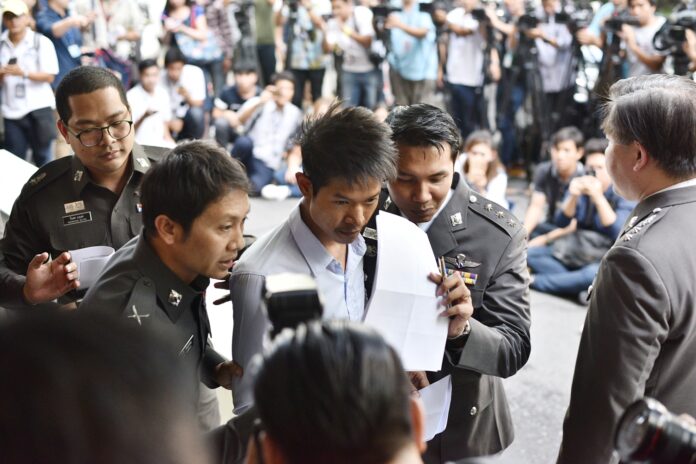 BANGKOK — A month after a teacher at an elite Bangkok boys school was arrested on suspicion of posting photos and videos online described as the sexual abuse of young schoolboys, the police investigation seems to have stalled out.
Police have yet to bring Suankularb School science teacher Saroj Meepai, currently free on bail, to court, and the school said a disciplinary review by education officials is unfinished, while the initial outcry in the media and online communities has subsided.
To Catch Alleged Predator, Suankularb Students Ran Sting Before Going Public
"The officials are handling this matter," Suankuarb deputy director Amnuay Chanhom said by telephone Tuesday. "I have already urged them to hurry up, but at this time we still cannot rule whether he has done wrong. We have to wait for all the evidence to be examined."
For allegedly sharing images of the abuse on his Twitter account, Saroj is facing two separate investigations: a criminal probe by police and an administrative review by the state education regulatory board.
According to Amnuay, the school cannot hand down any punishment until the board finishes its inquiry, and he doesn't know when that will be. In the meantime, Saroj remains suspended from his job.
Amnuay added that Saroj was granted bail; he had been denied release immediately after his arrest June 11.
Maj. Peempot Khetthet, an investigator with the police's online crime division, said as far as he knew, investigators have not forwarded any charges against Saroj to the prosecutor's office.
"I don't think we've already done that, because witness examination isn't over yet," Peempot said Tuesday.
The slow pace of the investigation contrasts the widespread outrage and media attention when a group of students in June outed Saroj as the owner of a Twitter account which posted explicit boasts of sex with underage students, including graphic photos and videos as proof of the claim.
Upon being arrested for spreading child pornography, Saroj backtracked and said he was having sex with adults and he fabricated details of abusing children for the sake of gaining more followers.
Amnuay, deputy director of the school which for 134 years has educated the elite of the elite, is open to that explanation, unless children step forward to say that they were abused by Saroj.
"I don't know if they were really schoolboys," Amnuay said. "I have to ask the committee for their opinion. But at this moment, no students at our school have come forward as victims so far. So we can't prove if it's true, whether they were really children. We have to wait for the conclusion."
At the outset of the scandal, Suankularb administrators were accused by some students of attempting to cover up Saroj's alleged crimes, ostensibly to protect its reputation as the oldest and most prestigious public boys school in Thailand.
But Amnuay said that's not the case, and the school has taken steps to make sure its teachers are held accountable, such as a hotline where students can leave anonymous tips about "inappropriate behavior" by any instructors.