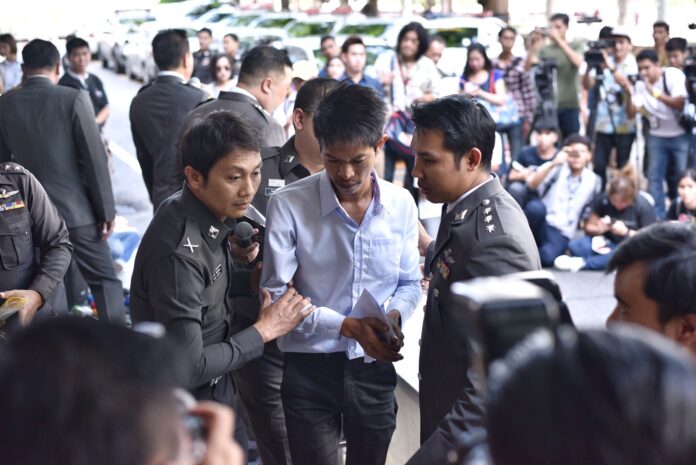 BANGKOK — After being arrested last night for uploading child pornography, a science teacher now says he never had sexual intercourse with underage boys.
Saroj Meepai, a former science teacher at the elite, all-boys Suankularb Wittayalai School, told reporters Saturday morning that his Twitter account, filled with explicit images of anal intercourse with what was described as classroom students, was shared by many people with the "same interests."
"We shared an account and password. This is very normal, I didn't think it would cause any trouble," Saroj said at the Central Investigation Bureau in Bangkok.
On Thursday, after announcing his suspension, the school said Saroj had admitted to having sex with students – just not his students at the nation's oldest high school where many of the most powerful have been educated.
Today Saroj said that although he can be seen in some of the graphic images, none of the boys he was having sex with were underage.
"I swear I've never had anal intercourse with the students in the school," said the 33-year-old teacher.
As for the many pictures of men penetrating younger men in student uniforms, Saroj said it was just roleplay to get attention and play on social media.
He was arrested Friday evening, hours after the school said he had been suspended during a course of an investigation that might see his pay docked or his termination from the school. Police and school officials said families and victims would have to step forward for any legal action to proceed.
Today, the chief of Technology Crime Suppression Division, made it clear a criminal matter is proceeding. Saroj's three mobile phones have been confiscated and will be investigated by officers, Maj. Gen. Supaset Chokchai said.
Saroj is charged under the Computer Crime Act for importing and sharing obscene materials. He'll be sent to a criminal court without bail, Supaset said.
Related stories:
Serial Pedophile Teacher Suspended from Oldest Public High School