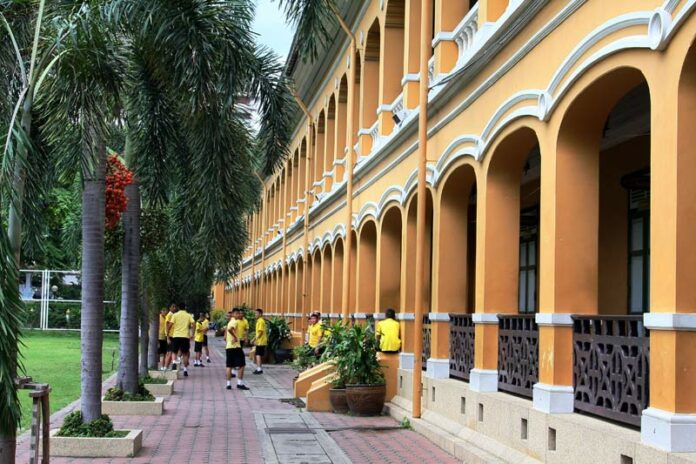 Update: Saroj Meepai was arrested Friday evening and charged with spreading child pornography online.
BANGKOK — A science teacher at one of Thailand's most prestigious all-boy schools was suspended today after reportedly admitting to having sex with numerous students and posting videos of the abuse on Twitter.
After his explicit Twitter account surfaced last night, the teacher, named as Saroj Meepai, was placed under two separate investigations by both Suankularb Wittayalai School and education authorities. Saroj is said to have confessed to having sex with underage male students, some of whom he paid.
If found guilty, Saroj will be stripped of his teaching license, and families of the victims are advised to file criminal charges against him, said Karoon Sakulpradit, sec-gen of the Office of Basic Education Commission, which chairs the investigation.
"If parents and guardians want to hold him responsible, please file your complaints to the police for prosecution, because this involves children who are under 18," Karoon said.
According to Karoon, Saroj is suspended while investigation is conducted.
Suankularb Wittayalai is the oldest all-male public school in Thailand. Its alumni include prime ministers, political activists and coup leaders such as Privy Council Chairman Gen. Prem Tinsulanonda, Pridi Banomyong and Tanin Kraivichien.
The school's response has been surprisingly restrained, with an administrator saying Saroj could only see his pay docked for his "inappropriate" behavior, depending on the outcome of an internal investigation.
Abuse Shared Online
Attention to Saroj's Twitter account was raised by a popular Facebook page that usually publishes humorous stories about Suankularb and other school happenings. The Troll Students of Suankularb page posted the link and some screenshots Thursday night.
His Twitter account, opened in October 2014, had about 50,000 followers, according to a cached version. It is now removed.
School officials on Friday confirmed to reporters the account belongs to Saroj, a high school science teacher at the Matthayom 6 level.
Screenshots of the account, which is now deactivated, show Saroj posting videos and photos of what he said was sexual intercourse with male students.
"This is from long ago, during school break. Matthayom 5 kid gets anal after some extra class lessons," the user captioned the explicit photo.
Amnuay Chanhom, deputy rector of Suankularb Wittayalai, said Saroj confessed to the crimes and added that he hired some of the students for the sex via online forums. Saroj also insisted that none of the students he had sex with were from Suankularb, Amnuay said.
"However, even if it's not Suankularb students, it's still considered inappropriate," Amnuay said.
The deputy rector said Saroj faces a wide range of possible punishments, from salary reduction to expulsion, depending on the result of the school's investigation. He also asked Suankularb students to come forward if they had been victims of Saroj.
"At this time, no students have identified themselves as victims so far," Amnuay said.
The school's relatively mute response to what is potentially a criminal act punishable by up to three years in prison per offense already led some Suankularb students to suspect of a cover-up attempt.
"If this page didn't expose this, Amnuay would still have been clueless, and he would have said he hadn't seen the news. Is that it?" wrote Attavit Panyapinyophol on the Troll Students of Suankularb page. "If I had a son, and Amnuay was still in charge of the disciplinary office, and baldy [Withoon Wong-in] is still director, I would definitely not entrust this school with my son."
Another expressed disbelief at Amnuay's suggestion victims of sexual abuse must step forward to identify themselves for the school to take action.
"Suppose I got fucked, and I have to report it to the school," wrote Atiphat Buraphan. "It would be like I have to be fucked again."
Related stories:
Math Teacher Under Investigation for Slapping Schoolgirls
Teacher Accused of 'Sawing' Student's Ear