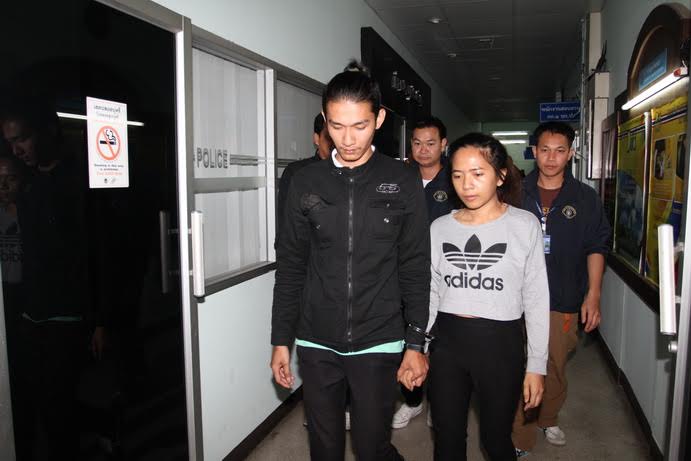 BANGKOK — A woman and her boyfriend said they stabbed her ex-boyfriend more than a dozen times last month as he was heading home from a gig at a Bangkok pub.
Sunanta Sodsoon,32; and Piyanat Boriphan, 23; were arrested in Phuket and later charged with premeditated murder Thursday, three weeks after they stabbed Manus Leerungreung, 26, 17 times near Soi Sathu Pradit 31 then fled the capital, where they both had been working in government jobs.
Piyanat said he was in conflict with Manus after he started dating Sunanta, the guitarist's ex-girlfriend, six months ago. He claimed that he felt unsafe and carried a knife because Manus had threatened him.
On May 19, Piyanat said he was drunk and suddenly decided to confront Manus. He forced Sunanta to take him to the restaurant where Manus was playing music. The guitarist had just left, so they followed until they found him on the road.
"I never thought I would kill him," Piyanat said in front of the press Thursday. "But when I met him, I was drunk and angry. I didn't think. I didn't count."
Manus was found dead with 17 stab wounds next to his motorcycle on the road not far from CentralPlaza Rama III mall at 12:30am on May 19.
A witness said he was stopped by two people wearing helmets on another motorcycle then attacked with a knife by a passenger who got off the bike.
Police Col. Jiraphob Phuridet yesterday said they tracked the pair down with the help of witnesses and security camera footage.
After the murder, the couple resigned from The Secretariat of The Cabinet where they were both working and returned to their hometown in Nakhon Si Thammarat province. They later moved to Phuket to search for new jobs before being arrested.
Related stories: