SAMUI — An altercation between a group of young cops and other revelers at a bar turned deadly when two officers pulled out guns and opened fire, police said, killing two and injuring seven early Friday morning.
Jaerasak Soisungwan and Narongsak Khamjai, both lance corporals, pulled out guns and fired into a scrum of officers and bar patrons as they were leaving the Camp Beer pub in Koh Samui's Bo Phut area at about 2am. Col. Thewet Pleumsuk said Narongsak shot and killed officer Jaerasak and Worawit Yimyong, who provided security at the pub and tried to stop the altercation.
Both men were taken to Bandon International Hospital where they died.
Five others were injured: officer Sitthisak Ngamkom, officer Kissana Bunyin, bar manager Theptingorn Tongpetch, waiter Weerapong Jaruseni and patron Kraisorn Mingsakul.
"The young kids were dancing, going out with their friends and girlfriends. When they were walking out of the bar, the kids were drunk and then shooting ensued," Col. Thewet said.
The group of cops were intoxicated, he said.
Camp Beer's security footage showed the moment guns were drawn. In front of the pub, the footage shows the drunk policemen and other patrons fighting. A man later identified as Narongsak, wearing a cap, pulls out a gun while others try to stop him.
After the shooting, Narongsak escaped the scene by car.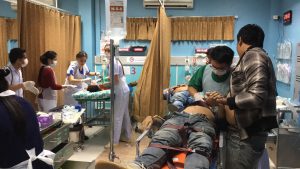 According to witnesses, the policemen came to party at the pub with their girlfriends. They got into a dispute with a group at another table that escalated into a confrontation.
Club security tried to stop the fight and told them to take it outside. Just before 2am, the policemen paid their bill and walked out to the parking lot, followed by the group they been quarrelling with.
That's when a fight broke and Jaerasak pulled his gun, police said. Pub manager Theptingorn tried to stop him. Narongsak pulled out a Glock pistol andopened fire, shooting his fellow policemen and civilians including the pub security guard.
Narongsak was later arrested and charged with first-degree murder, attempted murder and weapons-related charges.