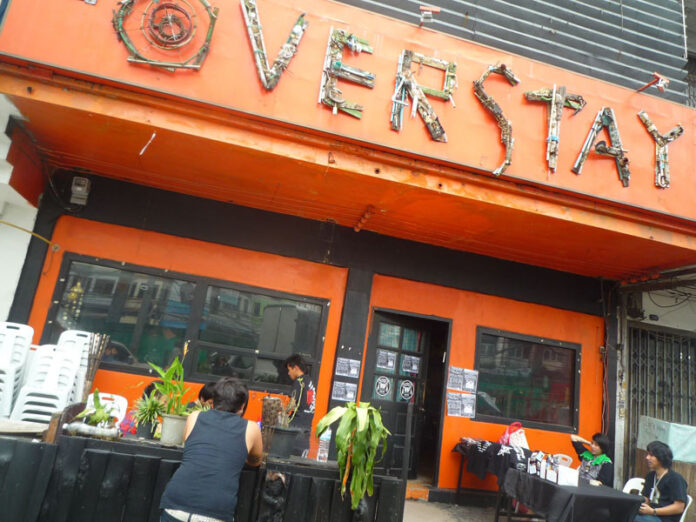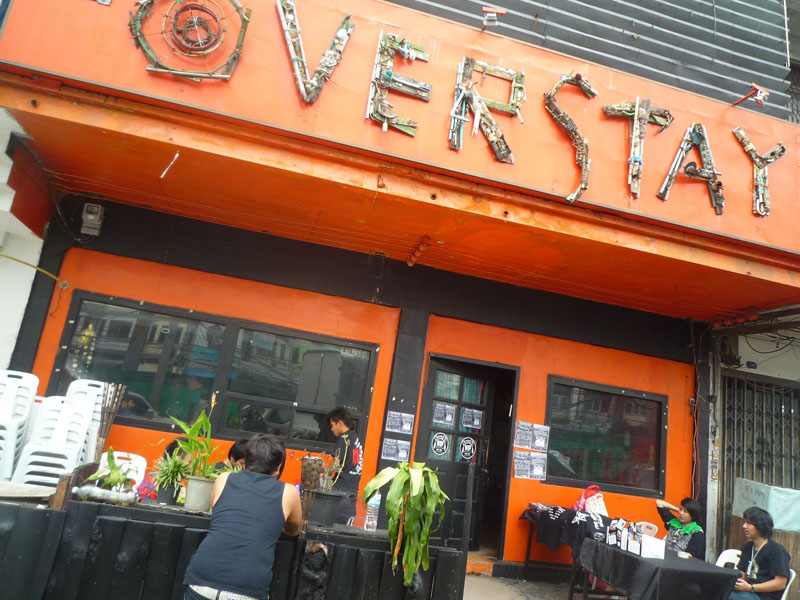 BANGKOK — At least six foreigners were seeking bail Monday after spending the weekend behind bars following a raid on a Bangkok guesthouse and music venue.
Yuval Schwok, owner of The Overstay, faced a serious charge of possessing drugs with intent to sell along with lesser charges relating to operation of the Bang Phlat guest house, the commander of Bowonmongkol police said Monday.
"He was also still fighting a previous charge of operating a hotel without permission we filed long ago," said Col. Wiradol Tubtimdee said, saying Schwok failed to properly register foreign guests as required under immigration law.
Six people were charged after testing positive for marijuana in the raid carried out at dawn on Friday. One person refused to be tested and was charged with refusing to comply with a lawful order, he said.
Someone writing on Schwok's Facebook claimed Sunday that one of the six, a German man, was already released after paying a 4,500 baht fine.
The rest were still in custody and were trying to seek bail Monday. Wiradol said he was unaware of the court's decision.
The Israeli embassy said it was aware of the case.
"We are aware of the case and we are handling it under standard consular procedure," Israeli Ambassador Simon Roded said Monday.
In a public message posted Saturday, an associate of Schwok's dismissed reports there was a party going on at the time of the raid. In the message, Gili Back complained no warrant was presented during the raid carried out by military, police and other officers.
Police said it was legal under a junta order earlier this year granting warrantless search and seizure powers to soldiers without any judicial review if they suspect any criminal activity.
The order issued in March was heavily criticized as ripe for potential rights abuses, as it gave sweeping police powers to soldiers without review.
It also authorized detaining anyone for interrogation if they suspected any link to crimes involving drugs, gambling or weapons.
Read: Junta Grants Police Powers to Military
Back was unable to comment further Monday.
But Schwok wrote Saturday morning that police charged him with dealing drugs based on his possession of 20 grams of marijuana. He also expected to be granted release that day.
"The result is quite sad they found 20 grams of herbs under my cupboard and try to put me down for dealing … I'm about to go to court to be released on bail," he wrote.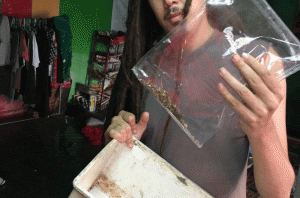 The Head of the Narcotics Suppression Bureau said Monday the raid at the The Overstay was conducted in response to complaints from neighbors. He insisted the charges against Schwok were reasonable, as officers found a scale in his possession, signifying intent to sell.
Back wrote that the scale was used in his kitchen for producing craft beer.
"If they are so suspicious of the case, I can try to press for their deportation," police Maj. Gen Sommai Kongwithaisook said Monday. "If they want to play with us, we play back harder. We are not going to tolerate drug-dealing expats."
Schwok denies selling drugs.
Friday's operation was led by the military with four other agencies: the Narcotics Suppression Bureau, Immigration Office, Tourist Police and local police.
Wiradol said the raid with 100 officers fully armed along with police dogs may have scared the foreigners was necessary for the sake of national security and suspects themselves.
"Foreigners are the target as both the perpetrators and the victims. We were trying to explain to them the current circumstances in the country when we conducted the raid," he said."But sometimes they don't completely understand due to the language."
He said stricter measures have been put in place in response to the recent threat of car bomb attacks in the capital.
The head anti-narcotics officer said they are going after every place where they suspect drugs are used or traded.
"If they want to live in Thailand happily, don't sell drugs," Sommai said. "I once said it that I will make drug dealers poorer than even beggars."