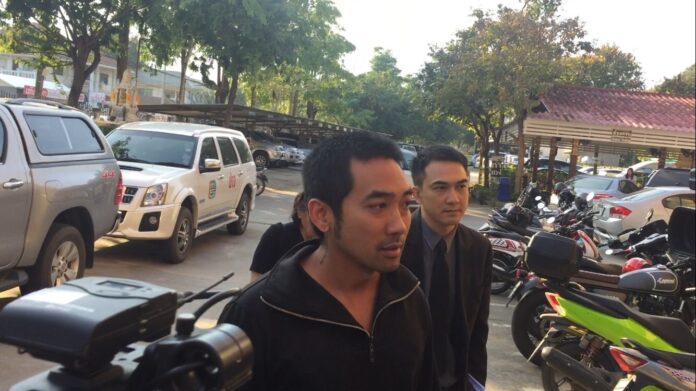 CHIANG MAI — A television actor's boyfriend and three private security guards blamed for the beating of the 23-year-old son of an army general in Chiang Mai were jailed Thursday morning.
Kritsana "Ball" Amitsoon and three guards from a bar where the Friday incident occurred were taken by police to the Chiang Mai Provincial Court where they were placed in custody at about 8am this morning.
Kritsana, boyfriend of actress Lakana "Aum" Wattanawongsiri, is accused of ordering the guards – Adisak Pengleng, Thanandorn Munsawaeng and Apiwat Na Lamphun — to assault Issarajnuwat Wankawisan, a student of Payap University, at Malin Sky Bar on Friday night.
Issarajnuwat, son of the regional army commander, told police that a group of celebs were responsible for ordering the guards to beat him after he got into an argument with them about access to a restroom.
Kritsana denied the allegations, saying he was uninvolved with what happened, according to Maj. Phumipat Jangsang of Chang Puak police.
Sawika Na Takuathung, Kritsana's mother, had prepared money for bail, but police refused to release them, Maj. Phumipat said, leaving it up to the court.
Related stories:
Police Close Chiang Mai Hotel Linked to Celeb