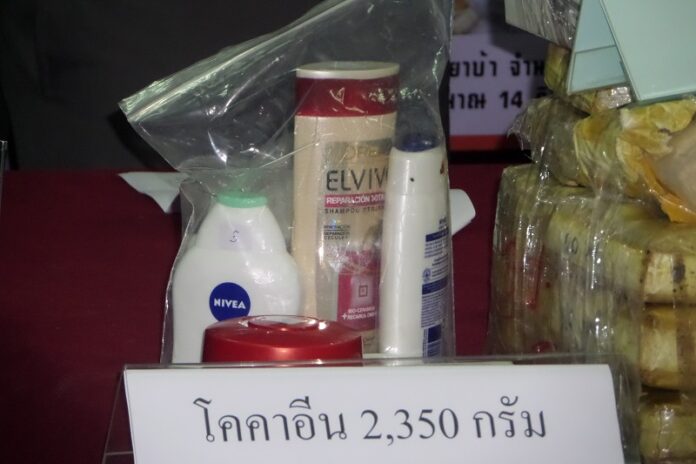 SAMUT PRAKAN— Two kilograms of cocaine hidden in shampoo bottles being smuggled by an Ecuadorian drug mule were intercepted at Suvarnabhumi Airport, police said Tuesday morning.
Acting on a tip, police seized two kilograms of cocaine hidden in a cream form disguised as beauty and skincare products and arrested two foreigners Monday at Suvarnabhumi Airport.
"We received a tip about an Ecuadorean woman who would be flying in," said Maj. Gen. Wuttipong Petchkamnerd of the Narcotics Suppression Bureau on Wednesday. "Her job was to import drugs from overseas and hand them over to a Russian buyer at Suvarnabhumi."
Police arrested Ecuadorean Jenny Carmen Del Rocio Acuna Pacheco, 55, and Russian Mikhail Shabanov, 31. They were charged with trafficking and possessing narcotics.
Though there was no obvious sign Pacheco was carrying drugs, Police said she became distressed when her bags were checked, so they tested the contents of the cream she was carrying for drugs.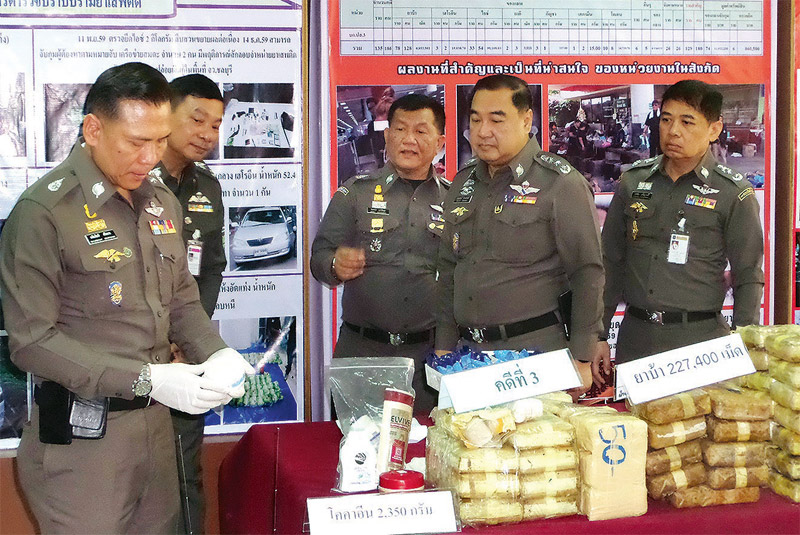 "Neither she nor the man cooperated very much and didn't answer many of our questions," Wuttipong said.
Pacheco reportedly confessed to smuggling the narcotics to hand-off to Shabanov, who they alleged planned to sell it to Russian customers in Thailand.
According to police, mixing cocaine with creams and cosmetics is a new way to smuggle the drug.
"Of course the pure cocaine can be separated from the creams," Wuttipong said.
Wuttipong said Wednesday that both Pacheco and Shabanov would be charged with possession and distribution of drugs, but their punishment would depend on the weight of pure cocaine they attempted to smuggle in. The cocaine is currently being separated and weighed, Wuttipong said.