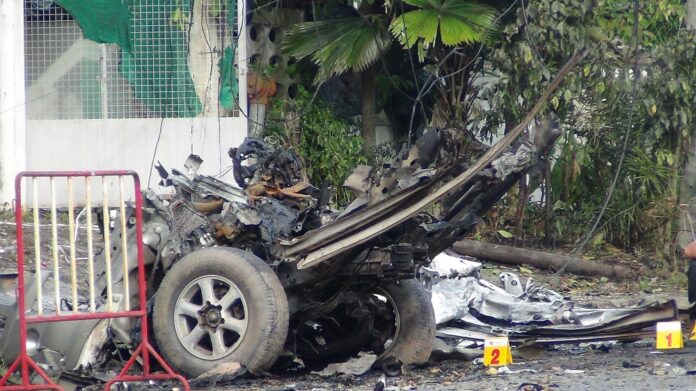 PATTANI — The suspected armed militants who stole five trucks and killed one of four hostages taken were identified by officials Friday as belonging to a new generation of the long-running southern separatist movement.
The commander of a special task force in Pattani province said the seven people who carried out the deadly dealership raid Wednesday were young members of a new ring of about 15 people split into three groups involved in deploying car bombs.
Read: Hostage Dies, Stolen Truck Explodes at Police Station
Maj. Gen. Jatuporn Klampasut said the three teams are led by Sobueree Cheha of  Pattani, Manase Saidee of Pattani and Bukoree Laoso of Songkhla.
Jatuporn said Sobueree's team steals trucks in Pattani's Yarang district while Manase leads similar efforts in Songkhla's Na Tawee district, where Wednesday's attack began. The third team, led by Bukoree, improvises explosives to weaponize the vehicles.
Authorities believe they represent a new generation of the 54-year-old Barisan Revolusi Nasional, or BRN. None was found to have criminal records, according to Gen. Udomdej Sitabutr, deputy minister of defense.
Officials believe they carried out Wednesday's attack at a dealership in Songkhla province due to tight security in the three southernmost provinces of Yala, Pattani and Narathiwat.
On Wednesday morning, seven gunmen raided the dealership in Songkhla's Na Tawee district. They stole five cars and abducted four men, including the business owner. One hostage was shot to death. Another was badly injured by a gunshot wound while two escaped to seek help from police.
Police identified the militant killed during a shootout as Nurhasan Arwear, a 23-year-old Pattani madrasa student.
Jatuporn said they are still looking for other attackers who are hiding in several districts of Pattani and Songkhla. The manhunt is difficul, he said, because they frequently relocate.
Related stories:
Hostage Dies, Stolen Truck Explodes at Police Station
Hunt on After Trucks Stolen, Staff Killed at Deep South Dealership