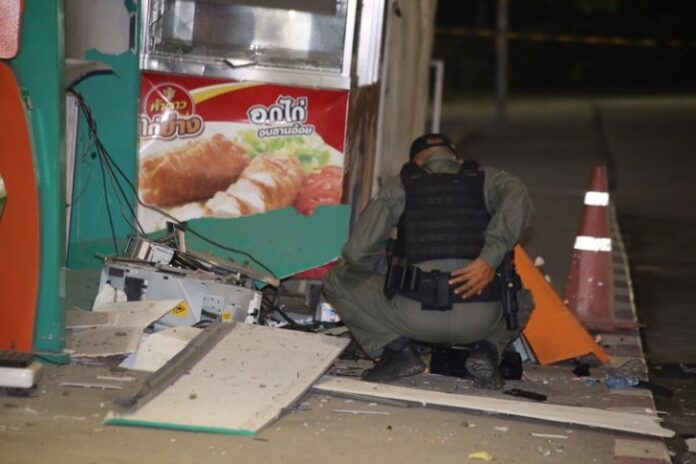 BANGKOK — From a petty crime perspective, it wasn't a bad plan: Blow up ATM, grab cash, run. And it was a successful one – depending on how many banknotes survived the blast.
Police on Wednesday were looking for what they described as a "plump man" who blew up an ATM outside a supermarket and made off with the cash.
At about 3:30am, the man detonated an explosive device at an ATM in front of a Tesco Lotus supermarket in the eastern Saphan Sung district before running away with an unknown amount of cash. The machine reportedly contained 481,700 baht.
The exact sum of stolen money could not be determined as the explosion destroyed many notes. Apart from the money, no one was hurt by the blast.
Col. Alongkorn Sirisongkram of Prawet Police said security camera footage shows a "plump" man in his 30s arrive to the scene on a motorcycle with no license plates. He takes five minutes to plant an explosive and sets it off.
ATM components including a keypad and cash dispenser were found scattered nearly 50 meters away. Police and EOD teams were still determining the type of explosive used to liberate the cash.
Metropolitan Police Bureau chief Sanit Mahathavorn said he thought the man had only aimed to steal the money and not harm anyone.