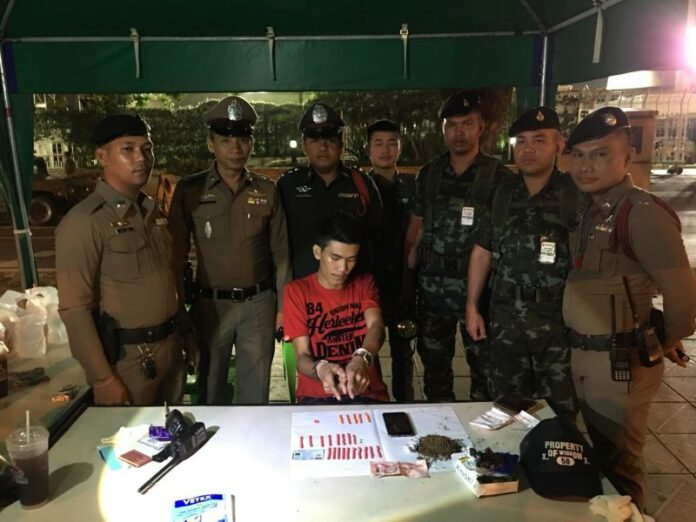 BANGKOK — A man was arrested and charged with possession and use of drugs after he was intercepted flying in from Isaan just to pick up some yaa baa in the capital early Wednesday morning.
Pittawat Chanthong, 19, was arrested by police after his taxi was stopped at a police checkpoint at 1am in the Pom Prap Sattru Phai district, where police found yaa baa or methamphetamines in a box of foot pads he was carrying. His urine also tested positive for drugs.
"Nang Loeng police were setting up a checkpoint in front of the army base," police Lt. Col. Kitti Boonsaen said. "While we were checking the driver's license, we noticed that the man in the backseat seemed suspicious. So we searched him and found a box of foot pads stuck in this underwear. Inside we found yaa baa wrapped with black tape, so we tested him for drugs."
Pittawat tested positive, and police then confiscated 228 meth tablets. They also took the box of foot pads and a mobile phone.
Pittawat confessed to police that he purchased the yaa baa in On Nut for 7,000 baht before hailing a taxi to go to a friend's home to put some of the drugs to use.
Kitti described Pittawat as a quiet young man, even after being arrested.
"When we caught him, he just said he flew in to meet his buyer and would take the yaa baa back to Sakhon Nakhon to sell it to people there," Kitti said. "He doesn't have a job."