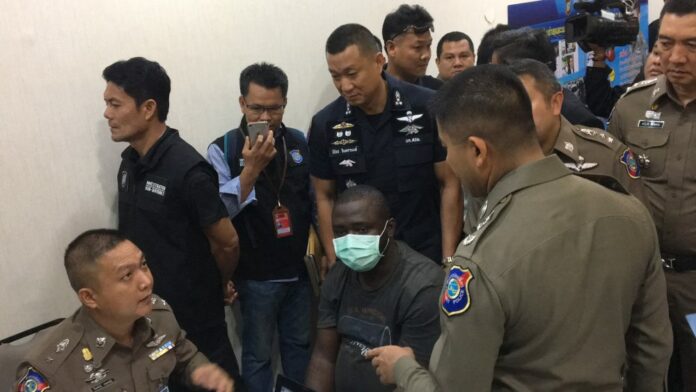 BANGKOK — A Nigerian man was arrested Friday for deceiving women into transferring him money as a part of a romance scam.
Light Chinezurum Mmaramigro was arrested Friday morning at his apartment in Bangkok after he posed as an online suitor, engaging in romantic relationships with Thai women before asking them to transfer him money.
According to Maj. Gen. Surachet Hakpal, Mmaramigro created a fake Facebook profile under the name Stanley George, with several pictures of a Caucasian man. After chatting with Thai women for some time, he would trick them into transferring him money before deleting his Facebook account. Mmaramigro had made more than 130,000 baht this way.
Police seized a computer, mobile phone, ATM cards and bank books found in his room. They said Mmaramigo has previously entered the country 13 times.
On Sunday, police arrested Emery Henry Ogba and seized 42,700 baht in cash, in connection with the romance scam ring. The 32-year-old Nigerian reportedly posed as an American millionaire with several names such as Thomas Anderson, Mike Dave and Mark Westwood before luring Thai women to transfer him money. Surachet said Ogba illegally entered the country via Malaysia eight years ago.
He said the scam ring have conducted crimes targeting Thai women for months. The deputy commissioner of tourist police encouraged the victims to come front and report to police.
"Come forward. Don't be shy. Cooperate with police," Surachet said during a Friday press conference. "This is a transnational crime. This is a cybercrime … The foreigners cannot do us harm if we see through their tricks."