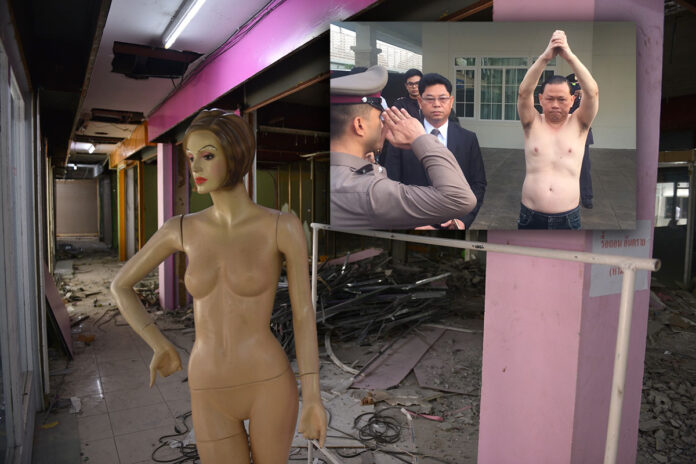 BANGKOK — A commercial building owned by a disgraced police official that hovered over a canal in northern Bangkok was being demolished Monday for trespassing on public property.
The demolition of Plaza Rimnam in the Don Mueang New Market began Saturday after district officials ordered it torn down by May 26 for encroaching into Khlong Prem Prachakon and for unpermitted building additions.
"Construction was delayed 10 years without good cause. They charged a 3.3 million baht yearly rental fee, so they made 33 million baht. They really caused damages to the tenants and the Treasury Department," police Gen. Wirachai Songmetta said.
The decree ruled the plaza must be demolished within 15 days.
The two-story plaza extended over the canal by 20 meters.
Inspectors from the Treasury Department and district office began investigating construction of an unapproved walkway earlier this month.
According to tenants, Plaza Rimnam was used to store sales stock rather than as a commercial center. It also had a branch of Amazon Coffee.
The demolition was part of a police operation against a former policeman accused of extorting local vendors in the Don Mueang New Market and selling unlicensed cosmetics products there. Lt. Col. Santhana Prayoonrat is listed as an owner of the market and the plaza building.
The 59-year-old was charged with multiple offenses, including racketeering. In a dramatic appearance, a shirtless Santhana surrendered himself Saturday to the authorities – to show he did not have any weapons – and was granted bail the following day. He denied all the allegations.
Additional reporting Teeranai Charuvastra