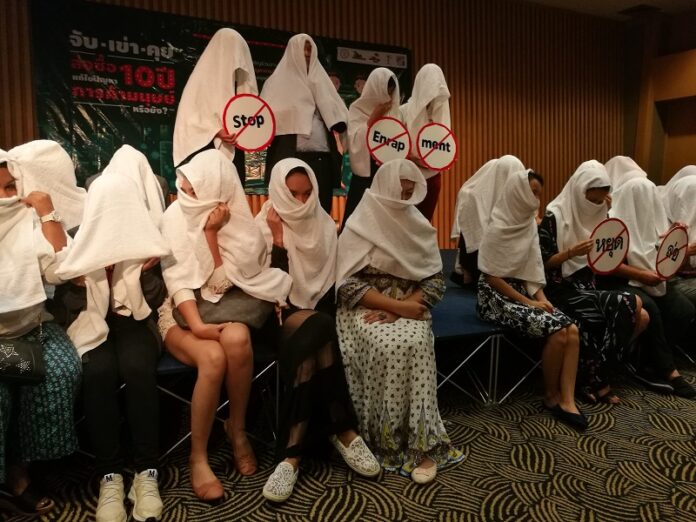 BANGKOK — When cops pose as customers to entrap sex workers to rescue trafficked women and girls, they violate the rights of many more sex workers who get caught up in their raids, an advocacy group said Friday.
The Empower Foundation said that for every trafficked minor rescued from the trade, 10 or more voluntary sex workers above the age of 18 have had their lives turned upside down. Citing examples in which police have relied on entrapment, foundation representatives said women end up being held incommunicado as potential witnesses for weeks in detention-like facilities.
"We urge the organizations working on the matter to change their methods and end the practice of entrapment," said Thanta Laovilwanyakul, foundation coordinator.
Thanta said entrapment – in which police go undercover as johns – was wrong because sex were lured into being unwitting participants to create evidence. She said problems should be tackled at their root, including poverty eradication and decriminalization of sex work in order to bring transparency to the industry.
Prostitution, though common throughout the kingdom, is illegal under the law.
The group cited a January raid on the Victoria Secret massage parlor in Bangkok's Huai Khwang district as an example. Eight trafficked minors were rescued but another 105 women were arrested.
The group called for the end of such practices, saying they violate the women's rights and cause widespread damage. It also call for the decriminalization of sex work, arguing that this would lead to greater protection of sex workers.
Lt. Kittatat Uamsown, deputy director of the Department of Special Investigation's human trafficking division, said that although entrapment can violate human rights, officers must enforce the law, including the Human Trafficking Act.
"I feel sympathetic to officers as well as they have to enforce the law," Kittatat said, adding that he personally believes sex work should be decriminalized.
Kittatat decried the hypocrisy of Thai society, saying that while massage parlors are legal businesses, people know virtually all customers who patronize such establishments go for sex, which is illegal.
Empower estimates that there are roughly 300,000 sex workers in Thailand.
Mai Janta, a sex worker and Empower Foundation representative, said some those who are not minors or forced into the industry are routinely arrested. She cited one case of a woman detained eight months.
National Human Rights Commissioner Angkhana Neelapaijit cited a case in which her body had to petition the Southern Bangkok Criminal Court to release a supposedly rescued sex worker who had been trafficked. The woman was being detained as a prospective witness; the commission asked the court to release her and lodge her as a resident instead.
"Detaining them is a violation of the human rights of women," Angkhana said.
As for Victoria Secret, Angkhana said the commission received a petition from the family of a sex worker who disappeared after the January raid. The 19-year-old woman had been held without access to her family for a week before the commission located her.