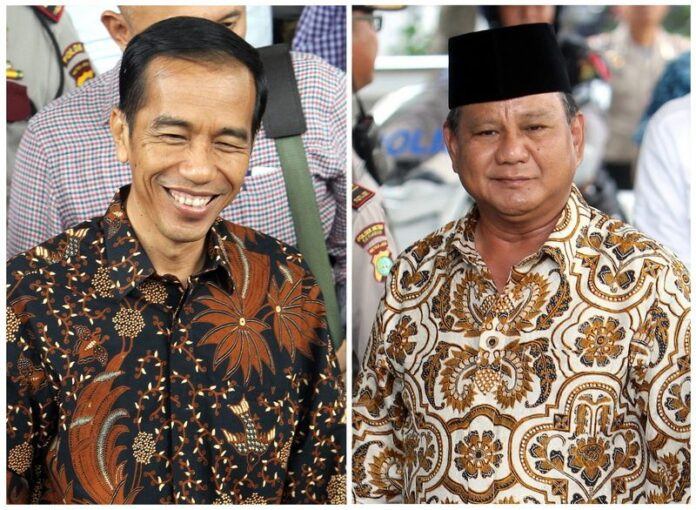 By Ahmad Pathoni
JAKARTA (DPA) — Indonesian presidential candidate Prabowo Subianto on Tuesday withdrew from the country's election process, citing widespread fraud, just hours before the election commission was to announce the official results.
The commission was expected to declare Prabowo's rival, reform-minded Jakarta governor Joko Widodo, as the winner of the July 9 poll.
"We reject the 2014 presidential election that was legally flawed, and therefore we withdraw from the ongoing process," Prabowo said.
Security was tight in the capital, with hundreds of armed police and soldiers guarding the headquarters of the election commission.
Prabowo said the election commission ignored complaints from his camp about "massive, structural and systematic cheating."
"We have found instances of electoral fraud involving organizers that make this election unfair," he said.
He appealed to his supporters to remain calm and not to resort to violence.
"We will base our struggle on the constitution and laws," he said.
The election commission ignored Prabowo's demands that it hold new elections in thousands of polling stations where he said cheating took place.
Prabowo wanted the election commission to stop the counting process until all allegations of fraud had been investigated.
There were fears of clashes involving rival supporters if either candidate refused to accept defeat after an unusually heated campaign marked by mudslinging, nationalistic rhetoric and slander.
Joko claimed victory after most unofficial quick counts from the July 9 election put him leading by about 5 percentage points.
But Prabowo disputed the counts and insisted that projections by other pollsters suggested a victory for him.
"The official result won't be much different from the quick counts," said Burhanuddin Muhtadi, executive director of Indikator Politik Indonesia, a private pollster.
A website run by private volunteers, Kawalpemilu.org, showed Joko leading with 52.9 per cent, compared to 47.1 per cent for Prabowo.
The website charted actual vote tallies as they appeared in scanned form on the website of the election commission.
Joko urged his supporters to stay home on Tuesday and warned against street celebrations to avoid clashes with Prabowo's backers.
Prabowo's campaign said it has enlisted 2,000 lawyers and paralegals to challenge the election result in the Constitutional Court, which could drag the process into late August.
The court has one month to settle any dispute from the presidential election.
The court's reputation was undermined last month after its chief judge was sentenced to life for receiving bribes in connection with local election disputes.
Analysts said Prabowo would have to prove that up to 7 million votes were stolen from him in order to change the result in his favour.
Outgoing President Susilo Bambang Yudhoyono on Monday urged the election loser to be gracious. ]
"Accepting defeat is noble, and congratulating the winner is beautiful," he said.
Joko, 53, was a little-known local politician before he joined the race to become Jakarta governor in 2012. He has earned admiration for his hands-on leadership and ability to connect with ordinary people.
The 62-year-old Prabowo, who once was married to one of former president Suharto's daughters, has amassed a fortune as a businessman and is seen as representing the country's elite old guard.
He styles himself as a strongman leader but has been dogged by allegations of human rights abuses during his time in the military.