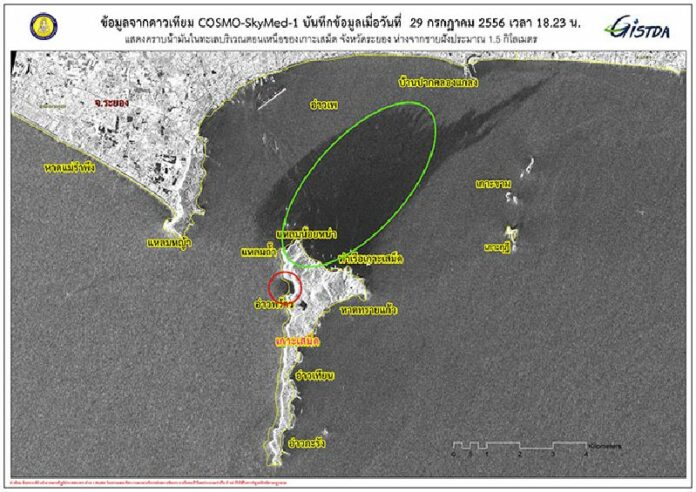 RAYONG — Business owners on Koh Samet island are suing a state-owned petroleum enterprise for the oil spill that polluted the resort island's beaches last year.
More than 50,000 litres of crude oil leaked from pipeline operated by PTT Global Chemical in July 2013 and blackened several beaches on Koh Samet island, prompting many tourists to leave the area. Others cancelled their trips to the island, resulting in a sharp drop in revenue for many businesses.
Pitsanu Khemaphan, president of the Restaurant and Hotel Association on Koh Samet, arrived at Rayong Provincial Court with his lawyer today to file a lawsuit against PTT Global Chemical for the incident, demanding 300 million baht in compensation.
The suit was co-filed by owners of Nimmanoradee Resort, Samet Cabana World Resort, and Heaven Resort, who say their businesses were severely affected by the oil spill. The case has been accepted by court officials for further procedure.
According to Mr. Pitsanu, he and other business owners decided to file the lawsuit after negotiations with PTT Global Chemical regarding financial compensation broke down.
"We have been trying to settle for an agreement with PTT, but we have not received any response," Mr. Pitsanu explained. "So we have to band together and file the lawsuit to ask for damage compensation."
He added that the statute of limitations on PTT Global Chemical's alleged offence is due to expire by 28 July 2014.
Komkai Sanguannapaporn, Mr. Pitsanu's lawyer, said PTT Global Chemical should be held responsible for business owners' lost revenue, as well as any environmental consequences the spill has caused.
"PTT Global Chemical is the cause of the oil spill that was brought by waves to Koh Samet. It has damaged the beaches on Koh Samet and driven tourists away," Ms. Komkai said.
Following the oil spill, room bookings at local hotels and resorts on Koh Samet dropped as low as 15% of their full capacity, while health officials warn that hazardous substances associated with the oil spill were found in nearby waters.
An internal investigation blamed the incident on faulty designs in pipelines operated by PTT Global Chemical. The enterprise vowed to improve its safety standards to prevent further incidents and launched a PR blitz aimed at convincing the public to visit Koh Samet once again.
However, critics have accused the petroleum giant of using its well-funded public relations mechanism to refurbish its tainted reputation and cover up the full extent of the environmental damage caused by the spill.
There is also speculation that as a regular buyer of advertisements in a number of newspapers — including Khaosod — PTT may have persuaded many media agencies to refrain from investigating the consequences of the oil spill.
For comments, or corrections to this article please contact: [email protected]
You can also find Khaosod English on Twitter and Facebook
http://twitter.com/KhaosodEnglish
http://www.facebook.com/KhaosodEnglish