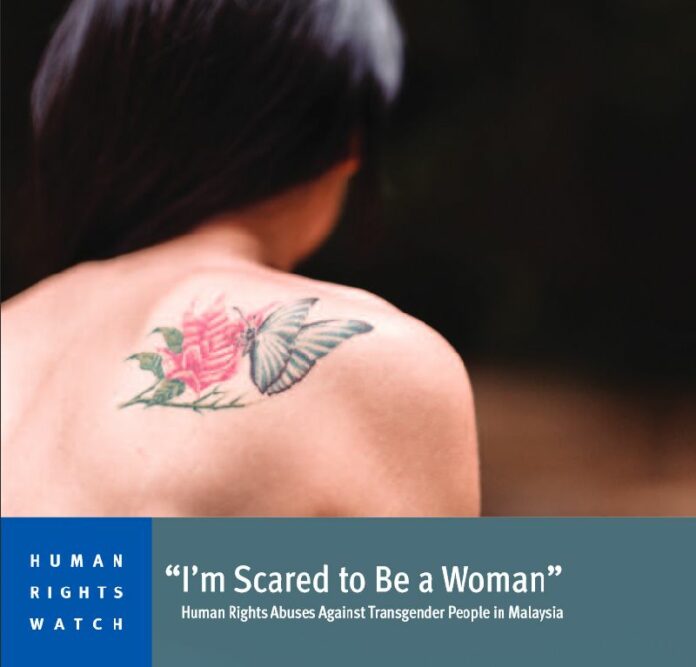 [Human Rights Watch]
25 SEPTEMBER 2014 – The Malaysian government should urgently seek the repeal of all laws and regulations that discriminate against transgender people, Human Rights Watch said in a report released today. Transgender people in Malaysia face criminal prosecution under laws that effectively prohibit "cross-dressing" and discrimination in accessing employment, health care, and education.
The 73-page report, "I'm Scared to Be a Woman: Human Rights Abuses against Transgender People in Malaysia," documents government abuses against transgender people in Malaysia. In research in four Malaysian states and the federal territory of Kuala Lumpur, Human Rights Watch found that state Religious Department officials and police regularly arrest transgender women and subject them to various abuses, including assault, extortion, and violations of their privacy rights. Religious Department officials have physically and sexually assaulted transgender women during arrest or in custody, and humiliated them by parading them before the media.
Human Rights Watch conducted field research in Malaysia in January 2014 in four states – Selangor, Negeri Sembilan, Penang, and Pahang – and in the Federal Territory of Kuala Lumpur. Human Rights Watch interviewed 66 people, including 42 transgender women and 3 transgender men; lawyers; HIV outreach workers; a criminologist, a psychologist, and a medical doctor; a representative of the federal Department of Islamic Development (JAKIM) and the governmental human rights commission (SUHAKAM); and an elected state assemblyman. Human Rights Watch contacted the Ministry of Health and the Prison Department about policies affecting transgender people, but neither agency responded.
"Transgender people in Malaysia risk arrest every day they step out of their door simply because of the way they express themselves," said Boris Dittrich, lesbian, gay, bisexual and transgender (LGBT) rights advocacy director at Human Rights Watch. "The authorities shouldn't be harassing and punishing people just for being who they are."
Muslims, who according to government statistics make up about 60 percent of Malaysia's population, are subject to state-level Sharia (Islamic law) ordinances, in addition to the federal criminal law. Since the 1980s, every state has passed Sharia criminal enactments that institutionalize discrimination against transgender people. All 13 Malaysian states prohibit Muslim men from "dressing as women," while three states also criminalize "women posing as men." The laws, enforced by state Islamic Religious Departments, do not define what constitutes transgender dressing or posing.
Read full story : http://www.hrw.org/news/2014/09/24/malaysia-transgender-people-under-threat