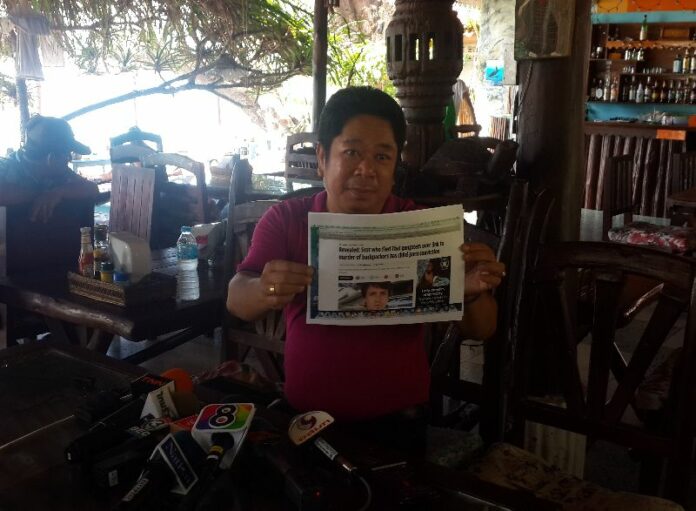 BANGKOK – Police say they have cleared another major suspect from connection to the murder of two British tourists on the island of Koh Tao ten days ago.
Warot Toowichian, 22, was initially sought by the police on the suspicion that he left Koh Tao shortly after David Miller, 24, and Hannah Witheridge, 23, were mudered there last week. Warot was thought to have been hiding in Bangkok ever since.
But police questioned Warot and established that he was not on the island when the murder took place, Pol.Lt.Gen. Panya Mamen said yesterday. Therefore, he is no longer being treated as a potential suspect, Pol.Lt.Gen. Panya said.
Meanwhile, Warot's father, a 'village headman' (local administrator) on Koh Tao, denied the allegation that his family is a part of a "mafia" network using its underground influence to stall police's investigation into the murder.
"We are not mafia or influential figures as reported in the news," Woraphan Toowichian said at a press conference yesterday. "My family has been helping authorities … and police in the investigation since the first day."
He continued, "The media coverage has saddened me. It's really serious, and it damages me, my family, and my relatives."
To prove his innocence, Woraphan said he would give police one million baht if they uncover evidence that links any of his family members to the murder of the two Britons.
The police previously questioned Woraphan and his brother, Montriwat Toowichian, who owns the bar where Miller and Witheridge were last seen before they were killed.
Woraphan and Montriwat were released later that afternoon, though police have provided conflicting reports about whether their DNA samples were collected and cleared by forensic tests.
At the press conference yesterday, Woraphan also lashed out at Sean McAnna, a Scottish busker living on the island who said Mr. Montriwat had initimidated him and put his life in danger. McAnna fled Koh Tao soon after.
Woraphan said his brother did approach McAnna, but only to inquire about his potential involvement in the murder. Mr. Woraphan also brought media reports to the press conference about McAnna's previous conviction of child porn possesion as evidence for his 'untrustworthy' character.
Police say they are not treating McAnna as a suspect.
Woraphan also told reporters that he has asked his lawyer to file a libel lawsuit against any media agency that tries to implicate his family in the killing of the two British tourists.