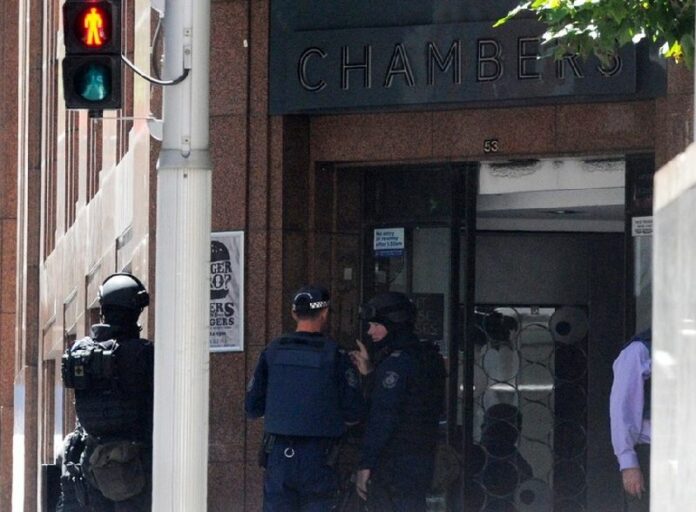 By Frank Walker
SYDNEY (DPA) — A number of hostages were being held Monday morning inside a central Sydney cafe, after witnesses reported gunshots and footage showed an Islamist flag held up to the window.
"We don't know whether this is politically motivated, although obviously there are some indications that it could be," Prime Minister Tony Abbott told a press conference, urging people to carry on as normal.
"The whole point of politically motivated violence is to scare people out of being themselves," he said.
"Australia is a peaceful, open, and generous society. Nothing should ever change that and that's why I would urge all Australians today to go about their business as usual."
Two apparent hostages earlier held a black flag up to the window of the Lindt Cafe in Sydney's Martin Place, bearing the Islamic phrase in white Arabic script "there is no God but God, and Mohammed is his messenger."
Footage on several news channels showed a middle-aged man with short silvery beard and a black bandanna on his head with Arabic writing on it, speaking and gesturing to people in the cafe.
He was wearing a black backpack, a white t-shirt and a black vest.
Dozens of police were at the scene. The area was cordonned off and the state parliament at the end of Martin Place was in lockdown with staff told to stay in their office and lock the doors.
The US consulate, 50 metres from the cafe, was closed and evacuated. A park in the city was also evacuated after a suspicious package was reported.
Flights were diverted from over the central business district, with reports saying the move was to allow security forces to operate helicopters if needed.
Witnesses said around 13 people were held in the cafe.
Lindt Australia chief executive Steve Loane told news.com.au he believed there were 40 to 50 people inside the building including customers and staff.
Police earlier Monday arrested a 25-year-old man in western Sydney for allegedly plotting an attack in Australia and helping Australian citizens travel to Syria, ABC reported.
For comments, or corrections to this article please contact: [email protected]