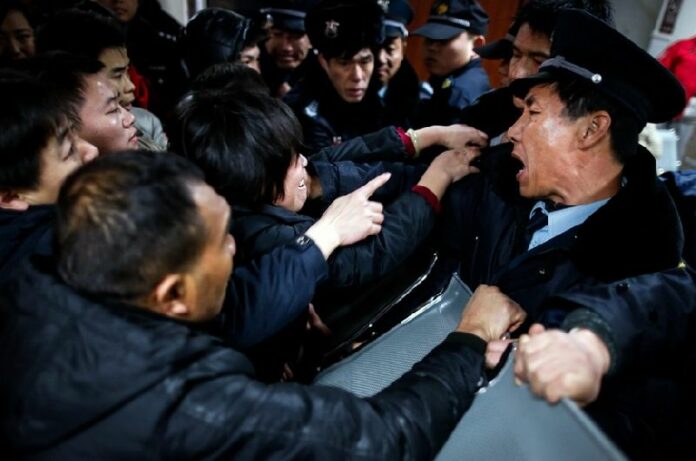 SHANGHAI/BERLIN (DPA) – A stampede on New Year's Eve left 35 dead and more than 40 injured in Shanghai, marring celebrations that drew revellers around the world to ring in 2015.
The accident occurred 25 minutes before midnight at the crowded Chen-Yi Square along the city's famed Huangpu River waterfront, China News agency reported, citing government officials.
Clubs in the historic buildings nearby had reportedly been throwing "New Year's money" that looked like 100-dollar bills, eye witnesses said on Chinese social media. Photos showed fake bills printed with "New Year's 2015" and the name of a nightclub.
The chaos reportedly broke out when revellers yelled that money was being thrown, and people were trampled in the rush.
The victims were trampled to death in the panic. Photos posted on social media showed pedestrians lying unconscious in the street and bystanders attempting to revive them.
The plaza at the Peace Hotel is the most famous viewing platform of the city's skyline and crowds had gathered to ring in the new year. A laser show had been planned, but was cancelled just last week amid concerns about crowd control.
Crowd control was a top concern for officials worldwide.
In London, for the first time, tickets were required for the city's fireworks display due to security concerns after half a million people packed the city centre a year earlier. On the black market tickets were being sold for many times the 10 pound face value.
Around 100,000 people gathered on the banks of the Thames as Big Ben struck 12 and fireworks lit up the night sky.
Elsewhere, hundreds of thousands gathered at Berlin's Brandenburg Gate for one of the world's largest open air parties, where violinist David Garrett played as the clock struck midnight and David Hasselhoff earlier performed for the crowd.
There were no fireworks in Paris, but hundreds of thousands gathered on the Champs-Elysees for a light and video show broadcast on the Arc de Triomphe.
Hours before midnight, thousands had already assembled on New York's Times Square to watch the famous ball drop despite bitter temperatures forecast for minus 2 degrees Celsius at midnight. Police were on high alert due to large crowds and recent violence aimed at the city's police officers.
Around 2 million people celebrated the arrival of the New Year on Rio de Janeiro's Copacabana beach in Brazil.
Shortly before midnight a message from Pope Francis was displayed on a giant screen. A 16-minute fireworks display followed the pope's message.
Music groups, DJs, singers and samba dancers performed on three large stages.
Cities across Asia on Wednesday began the countdown to 2015 with a mix of fireworks, beach parties and prayers.
More than 1 million revellers thronged Sydney Harbour in Australia to welcome in the year with a fireworks extravaganza that lit up the city's iconic bridge and Opera House.
For the first time, partygoers at official sites in Sydney were not able to bring their own drinks, broadcaster ABC reported, with alcohol only available from a quarter of the sites, and only from on-site vendors.
While it may be the first globally recognized celebration, the Sydney fireworks came three hours after Samoa said goodbye to 2014, and two hours after New Zealand, where poor weather dampened celebrations, if not the mood.
Younger New Zealanders and tourists flocked to the beaches and resorts, while major cities Wellington and Christchurch rang in the New Year with a mix of bands, movies and a countdown to fireworks at midnight.
Across Japan, people flocked to shrines and temples to pray for happiness and prosperity during the first three days of the New Year.
As per tradition, temple bells chimed around midnight (1700 GMT).
While celebrations loomed large and loud throughout Thailand's capital, Bangkok, many chose to spend New Year's in meditation retreats.
Conducted in the Buddhist temples, pious Thais passed New Year's Eve in deep spiritual meditation to cleanse both the spirit and the mind in anticipation of the upcoming year.
"It is a much more calming way to pass new year's," said Mint Saruda, an airline official. "It relaxes you and is much better for the soul than getting drunk and stupid with your friends."
In Beijing, several thousand merrymakers in sub-zero weather headed to the National Stadium, the venue known as the "Bird's Nest" that was erected for the 2008 Summer Olympics. The spot was chosen to highlight China's bid for the 2022 Olympic Winter games.
The celebration, which included performances by star pianist Lang Lang and Olympic medalists, was low-key compared to events in other cities. China, like several other Asian countries, observes the lunar calendar – the year of the sheep arrives on February 19.
But in Hong Kong, which was a British colony for more than 150 years, a large fireworks display lasting eight minutes lit up Victoria Harbour.