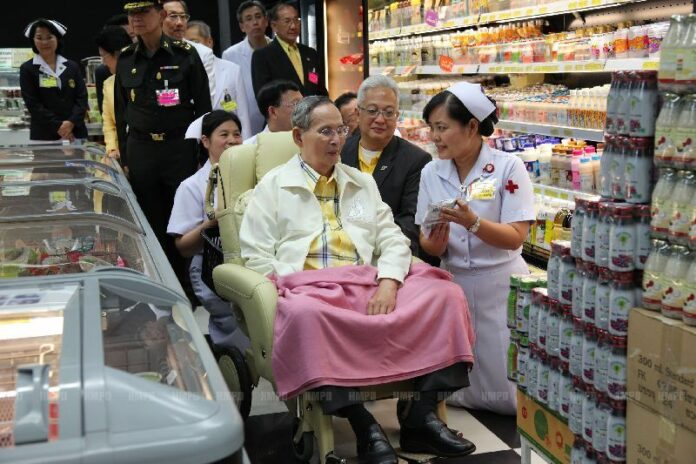 BANGKOK – His Majesty the King has urged all Thais to practice a "pure will" and "perfect physical strength" in a New Year greeting card released to the public tonight.
The card depicts a scene from the tale of King Maha Janaka, the previous life of Lord Buddha, who is praised for his iron will for swimming in the seas for days after a storm sank the ship that was carrying him to the land of Suvarnabhumi.
"Have a pure will, sharp wisdom, and perfect physical strength," the text in the centre of the card says.
The card is decorated with rows of "smiley faces" emoticons on the side. The Royal Household Bureau unveiled the card at 8 pm today.
King Bhumibol, who turned 87 on 5 December, has presented a New Year card to the public since late 1970s. Different messages are included in the greeting card each year.
The monarch is currently residing at Siriraj Hospital in Bangkok where he is being treated for several illnesses. The king was rushed to hospital from his summer palace in Prachuap Kiri Khan province in October for what the palace said was "high fever."
His Majesty later underwent a surgery to remove his gallbladder.
Read more: HM King Re-Emerges After Months Of Illness
For comments, or corrections to this article please contact: [email protected]