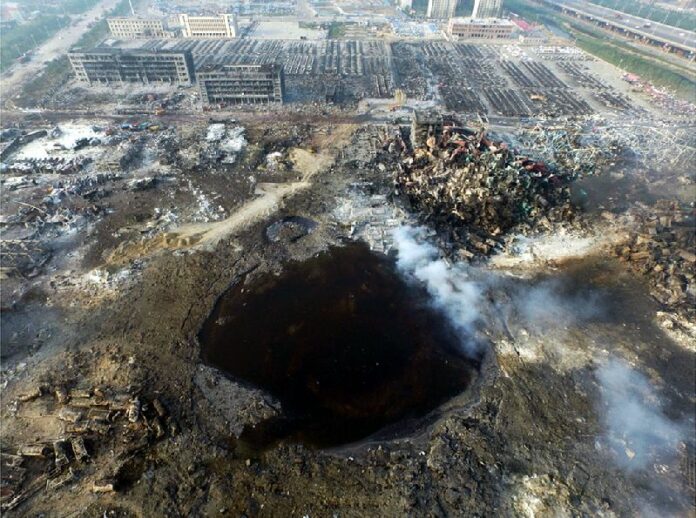 BEIJING (DPA) – Water near the site of last week's fatal warehouse blasts in China contains cyanide levels that are 356 times the national standard, the Environmental Protection Ministry said Thursday.
New tests have found that the environmental impact of the August 12 explosions, which killed 114 people in Tianjin, is much more serious than authorities had previously reported.
The water outside the immediate area of the blast site at a chemical storage warehouse in the northern port city also contained levels of cyanide up to 8.2 times national safety standards, the ministry said.
Its findings differed from State Oceanic Administration statements carried by state media earlier Thursday saying there were only "minute traces" of cyanide in water near the blast site.
Sodium cyanide is highly toxic and in contact with water releases hydrogen cyanide gas, which is toxic and flammable.
Authorities will speed up treatment of contaminated water and will discharge the water only after it is safe, said Tian Weiyong, head of Ministry of Environmental Protection's emergency response centre.
Seventy-three stations in a 5-square-kilometre area have been set up to detect and treat soil contamination, Tian said.
Tian rejected rumours that the government's air quality reports had been doctored.
Tianjin's local government also said Thursday that it would buy back apartments damaged in the massive blasts pending surveys of the buildings.
The blasts caused varying degrees of damage to 17,000 residences, the Xinhua news agency reported.
To reach us about this article or another matter, please contact us by e-mail at: [email protected].