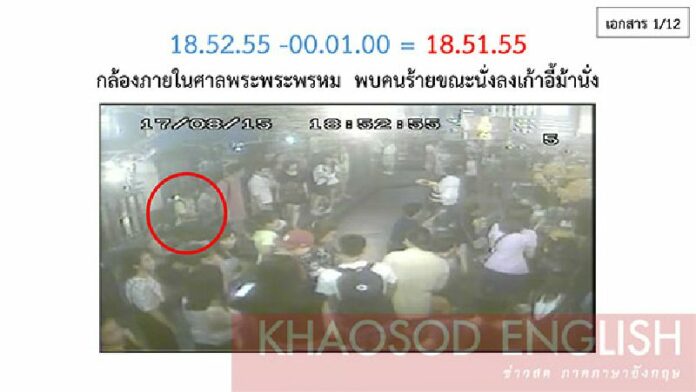 BANGKOK — Two of three persons of interest in Monday's deadly bombing attack were cleared of wrongdoing tonight, according to a police source.
After police announced they were seeking three more people they suspected of being accomplices in the attack, which killed at least 20 and injured more than 150, two them reported to police for questioning and were cleared of involvement, according to a high-level source in the Metropolitan Police Bureau.
One man seen wearing a red shirt and another a white shirt in video taken just before the attack, who were standing near the suspect when he is thought to have planted the bomb, reportedly answered police questions and professed their innocence tonight.
BBC Correspondent Jonathan Head said via Twitter that one of the men was reported to be a Chinese tourist and the other a local guide.
That leaves one additional suspect unaccounted for, a woman who was wearing a black shirt in the video.
Three days later, no one has claimed credit for the savage bombing that turned the popular Erawan Shrine into a scene of horror, and police have yet to make any arrests.
Yesterday police released a composite sketch of their chief suspect, a man seen leaving a backpack at the scene wearing a yellow T-shirt. He was last seen riding a motorcycle taxi toward Sala Daeng intersection, south of the attack site.
Earlier today national police spokesman Prawuth Thawornsiri said a request had been made to Interpol for unspecified assistance.
More on the Bangkok bombing:
Tuk-Tuk Driver Who Took Bomber to Shrine Steps Forward
1M Baht Bounty for Bangkok Bomb Suspect
Police Widen Hunt for Bombing 'Network'
Bangkok Shrine Bombing: Those Who Died
Day in Photos: Expressions of Grief, Unity After Terror Attacks
Briton Dies in Bangkok Shrine Bombing
Despite Lack of Evidence, Thai Media Points Blame at Uighurs
Tourists Narrowly Escape Second Bangkok Bombing in 24 Hours
Bangkok Shrine Bombing: Police Hunt Backpack Man
Tourists Among 19 Killed by Bomb at Bangkok's Erawan Shrine
To reach us about this article or another matter, please contact us by e-mail at: [email protected].
Follow Khaosod English on
and
Twitter
for news, politics and more from Thailand.