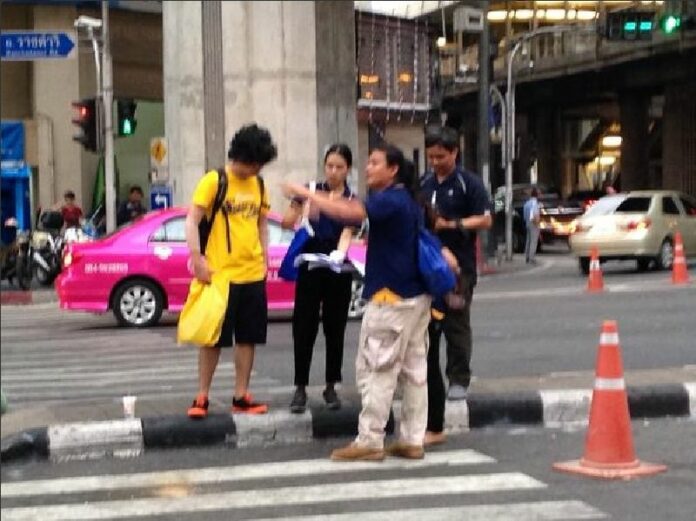 BANGKOK — A broadcast news agency has apologized for sending someone costumed as the lead bombing suspect to the very site of the blast yesterday to reenact Monday's deadly bombing.
Bystanders were stunned yesterday to see a man wearing a yellow T-shirt and backpack with an unruly shock of hair walking into the Erawan Shrine, where at least 20 people were killed and more than 150 injured, a stunt which later came to light when someone tweeted a photo from the scene.
"At first I thought it was coincidence, but [I thought], wow, isn't the similarity too striking?" tweeted user "BoyofHeavan," who posted photos of what he described as a stupid stunt. "Moments later, two to three cops charged him."
Since Tuesday police have been hunting for a yellow-shirted man who left his backpack at the shrine shortly before the explosion.
He added that people were shouting curses at the man until he was taken away, at which point he saw an entire production team there. He said the crowd of onlookers remained standing there, dazed by what they had seen.
Several hours later Nation TV published a statement admitting that the stunt was its attempt to reenact the bombing.
The statement, signed by company president  Adisak Limprungpatanakij, read in full:
"On behalf of the highest executive of Nation TV, I apologize and express my sincerest regret for the actions of a Nation TV team that reenacted the incident without considering the impact on sensitive feelings of the people and respect for the deceased. We will discuss disciplinary action."