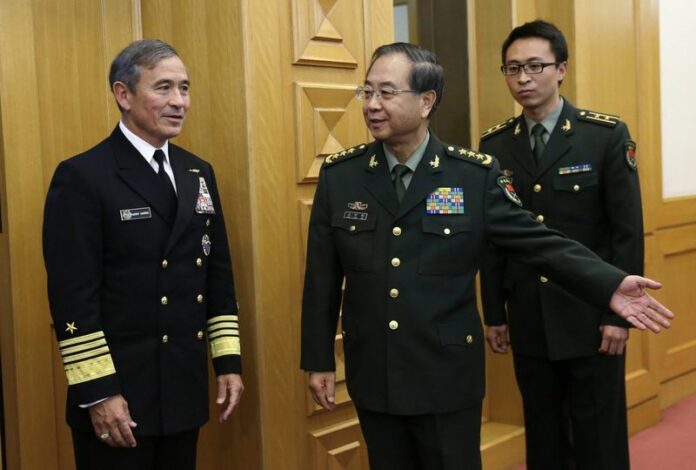 BEIJING — The U.S. military will continue to operate wherever international law allows, a top admiral said in Beijing on Tuesday, a week after a U.S. warship sailed through the disputed South China Sea, raising tensions between the two world powers.
"By matching our words and our diplomacy with routine freedom of navigation operations, we're making it clear that the United States continues to favor peaceful resolutions to ongoing disputes," Admiral Harry Harris said during his first visit to China as commander of US Pacific Command.
"Our military will continue to fly, sail, and operate whenever and wherever international law allows. The South China Sea is not – and will not be – an exception," Harris said in a speech to students and scholars at the Stanford Center at Peking University.
"I truly believe that these routine operations should never be construed as a threat to any nation," Harris added.
Beijing summoned the US ambassador to China last week to express its "strong discontent" about the US naval sail-by last week.
Beijing said the USS Lassen illegally entered Chinese territorial waters when it sailed early Tuesday near the disputed Spratly, or Nansha, group of islands, which are claimed by both China and the Philippines.
"China will do whatever necessary to oppose deliberate provocation from any country," Deputy Foreign Minister Zhang Yesui told US Ambassador Max Baucus according to the Chinese Foreign Ministry.
China and several other Asian nations have overlapping claims to islands in the South China Sea, a major shipping route which is also thought to be rich in mineral resources.
A United Nations tribunal said last week it would rule on the increasingly heated dispute between the Philippines and China over the Spratlys.
China has refused to participate in the arbitration and says it has historic rights over the sea.
Story: DPA
Related stories:
Top Chinese Admiral Says Minor Incident in South China Sea Could Spark War
China Summons US Ambassador Over Destroyer in South China Sea
Angry China Shadows US Warship Defying Beijing in South China Sea