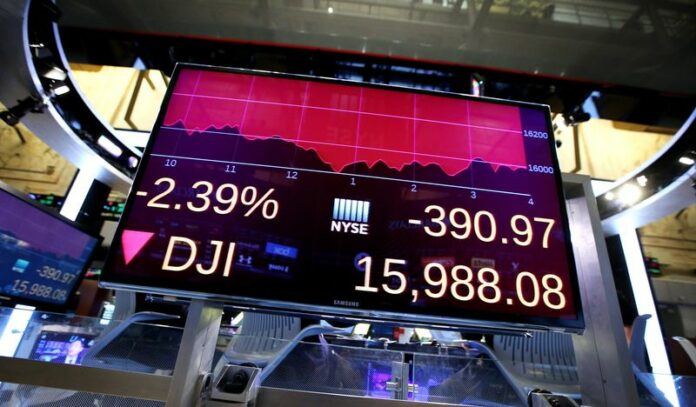 NEW YORK — The continued decline in the price of crude oil and concern that global growth is faltering contributed Friday to a dramatic decline in stock markets around the world.
U.S. equities sank to their lowest levels since August, following market slides in Europe and Asia.
The Dow Jones Industrial Average fell 2.39 percent, ending the day 391 points down after falling as much as 537 points. European stocks hit levels not seen in months and the Shanghai Composite Index closed down 3.55 percent at 2,900.97. ChiNext Index, which tracks China's growth enterprises, also dropped 2.86 percent.
Germany's benchmark DAX ended the week down 2.54 percent at 9,545.27 points, the deepest since early October. Since the beginning of 2016 the index has lost more than 11 percent.
The leading index of the Euro zone, the Euro Stoxx 50, lost 2.37 percent to 2,952.48 points. Leading indexes in Paris and London also went down.
The market turmoil was attributed at least in part to oil dipping to 29.28 a barrel before closing at a 12-year low. The crash in oil prices forced equity markets to their knees, wrote analyst Jasper Lawler from broker CMC Markets on Friday.
But there was also bad economic news from the United States. Figures on retail sales and manufacturing in December showed the world's largest economy ended 2015 on a weak note.
Chinese shares plunged despite better-than-expected foreign trade figures released on Thursday.
Foreign direct investment in China rose by 6.4 percent year on year to USD$126.27 billion in 2015, according to the Ministry of Commerce.
The Chinese economy grew 6.9 percent year-on-year in the third quarter of 2015, below the 7-per-cent target that the government has set for the whole of 2015.
Story: DPA
To reach us about this article or another matter, please contact us by e-mail at: [email protected].