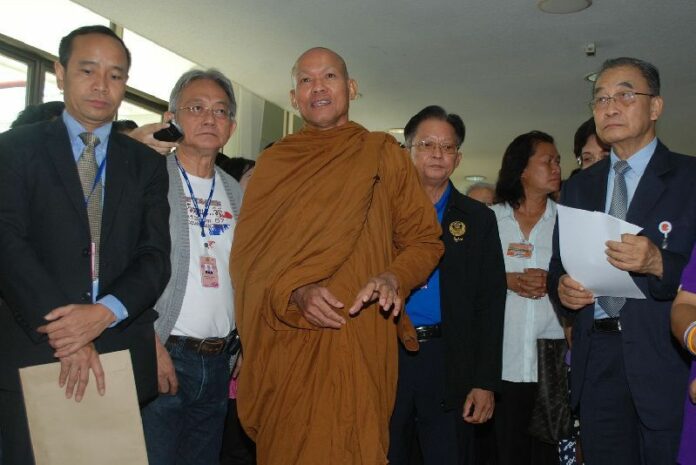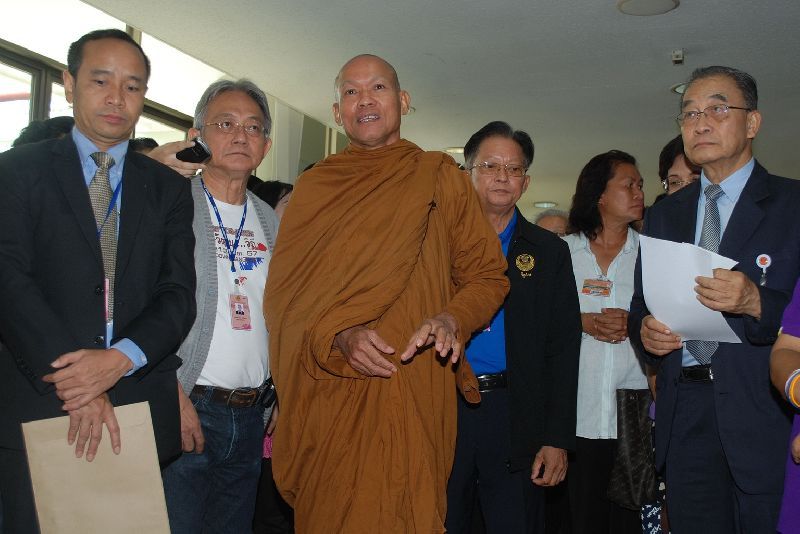 By Amy Sawitta Lefevre and Aukkarapon Niyomyat
Reuters
BANGKOK — Political divisions and allegations of corruption are fueling an unholy battle for the leadership of Thai Buddhism.
Religion is becoming a proxy war for the color-coded politics that Thailand's junta has quashed since taking power in 2014 in a bid to end a decade of political violence.
The frontrunner for Supreme Patriarch, head of the country's 300,000 monks, is a 90-year-old abbot who is under investigation for a tax scam involving luxury cars.
He has ties with the wealthy Dhammakaya Temple, which is dogged by a scandal of its own, and which some devotees claim is a power base for ousted former Prime Minister Thaksin Shinawatra and his Redshirt supporters.
Leading the campaign against him is a firebrand monk best known for his part in street protests backed by the royalist military elite who revile Thaksin and helped usher in the junta.
Stuck in the middle are millions of Buddhists whose religion has been shaken by repeated sex and money scandals, and now the nation's divisive politics.
The pro-establishment cleric leading the charge against frontrunner Somjed Phra Maha Ratchamangalacharn says the military government must honor a pledge to stamp out corrupt practices that critics say were allowed to flourish during the Thaksin years, starting with the Supreme Patriarch nominee.
"Allegations of corruption following this nominee could be seen as a direct endorsement of corrupt practices," said the activist monk, Buddha Issara, who this week submitted a petition with 300,000 signatures calling for the removal of the top nominee.
Mayanee Thaitae, 33, a royalist activist, said Thailand's main religion should not be politicized.
"How can you have a nominee who has ties with the red shirts? One who supports a temple that has corruption cases against it?" " she said, referring to supporters of Thaksin and his sister, former Prime Minister Yingluck Shinawatra whose government was ousted by the army in 2014.
Deep Divisions
Ailing King Bhumibol Adulyadej, 88, is known as the "supreme patron" of Buddhism and he used to preside over the country's most important Buddhist ceremonies.
National anxiety over the royal succession has been reflected in the years of political instability which has divided society and now contributed to religious division too.
Prime Minister Prayuth Chan-ocha has said he wants the dispute resolved but seems reluctant to meddle in Buddhist affairs.
The prime minister must forward a nomination for Supreme Patriarch from a Supreme Council of monks which the king must then approve.
Thai Buddhism has for years been tainted by reports of misbehaving monks and mishandling of temple donations, allegations some worshippers say have eroded its relevance in the deeply spiritual country.
In the past, the Supreme Patriarch and the council have shown scant interest in tackling what many feel is a moral crisis in the religion.
The country's last Supreme Patriarch, Somdet Phra Nyanasamvara, died in 2013 aged 100.
He was widely viewed as a paragon of humility who shied away from material excesses, a comparison not lost on those opposed to the current frontrunner who is being investigated for fraud.
Dhammakaya, whose headquarters is a sprawling, futuristic temple in north Bangkok, has been dogged by allegations of corruption for years. The monastery's abbot was cleared by Thai Buddhism's governing body last year over allegations he embezzled millions of dollars in donations.
The abbot rejects fraud allegations.
Despite opposition to the current frontrunner, the National Office of Buddhism said outsiders would not influence any decision.
"What the Supreme Council wants to do is the business of the Supreme Council, normal people have no business and no say in this," said Somchai Surachatri, spokesman for the National Office of Buddhism.
"There are traditions that need to be respected and opposition groups can protest all they want."
Additional reporting Panarat Thepgumpanat and Pracha Hariraksapitak