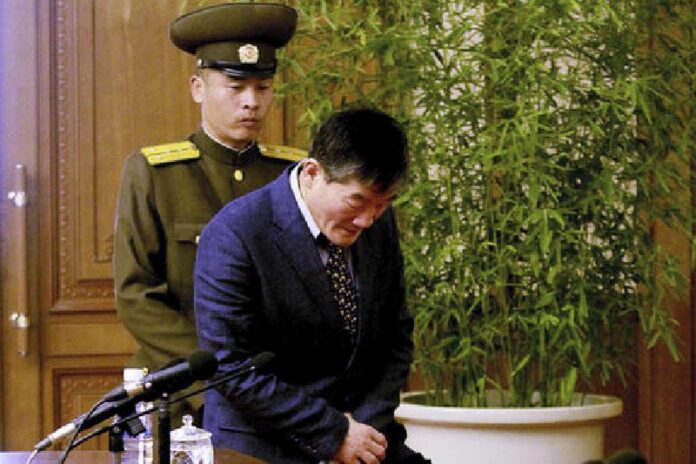 SEOUL, South Korea — An American detained in North Korea said he had spied against the country and asked for forgiveness at a media presentation Friday, nine days after a U.S. tourist was sentenced to 15 years in prison with hard labor for subversion.
Kim Tong Chol told a press conference in Pyongyang that he had collaborated with and spied for South Korean intelligence authorities in a plot to bring down the North's leadership and tried to spread religious ideas among North Koreans.
Describing his acts as "shameful and ineffaceable," Kim said he feels sorry for his crime and appealed to North Korean authorities to show him mercy by forgiving him.
He was born in South Korea and became a naturalized U.S. citizen. In an interview with CNN in January, Kim said he lived in Fairfax, Virginia, before moving in 2011 to Yangji, a city near the Chinese-North Korean border. He said he commuted daily to Rason, a special economic zone in North Korea, where he was president of a trade and hotel services company.
He said in the Pyongyang press conference that he was detained in Rason last October.
North Korean authorities often arrange press conferences for U.S. and other foreign detainees in which they read statements to acknowledge their wrongdoing and praise the North's political system. Those detainees have said after their releases that they were coached or coerced on what to say.
Kim Tong Chol, a U.S. citizen detained in North Korea, speaks as he is presented to reporters in Pyongyang, North Korea on Friday, March 25, 2016. Photo: Kim Kwang Hyon / Associated Press
South Korea's National Intelligence Service, the country's main spy agency, said Kim's case wasn't related to the organization in any way and offered no further comment.
On March 16, North Korea's highest court sentenced Otto Warmbier, a 21-year-old University of Virginia undergraduate, to prison after he confessed he tried to steal a propaganda banner as a trophy for an acquaintance who wanted to hang it in her church. He tearfully confessed at his press conference to the attempted theft, which would be grounds in North Korea for a subversion charge.
The U.S. government condemned the sentence and accused North Korea of using such American detainees as political pawns.
The North's actions on the two American detainees came as it faces mounting pressure from the United States, South Koreaand their allies following its nuclear weapons test and long-range rocket launch earlier this year. In recent days, NorthKorea's state media has conducted weapons launches and issued warlike rhetoric to attack Seoul and Washington in response to ongoing annual military drills between the allies that it sees as an invasion rehearsal.
Outside analysts say North Korea often attempts to use foreign detainees to wrest outside concessions. North Korea in the past released some U.S. detainees after high-profile American figures visited the country.
North Korea is currently holding three South Koreans and a Canadian pastor for what it calls espionage and attempts to establish churches and use religion to destroy the North's system.
Story: Hyung-Jin Kim / Associated Press
Related stories:
North Korea Presents Detained American to Media
North Korean Follows Path to Freedom in Bangkok
Thailand Condemns North Korean Missile Launch