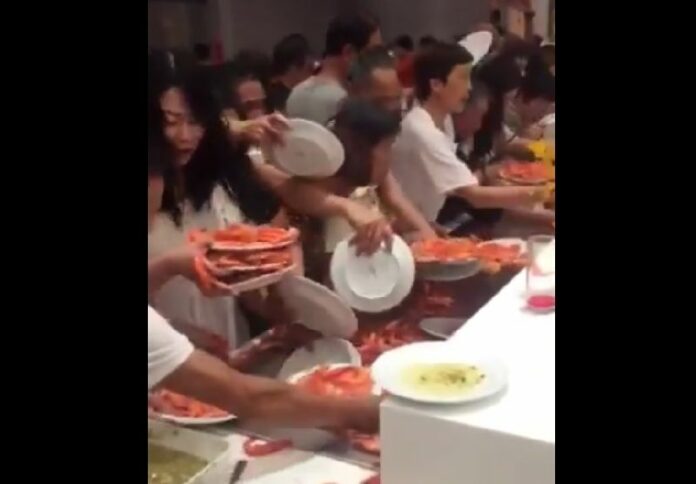 By Teeranai Charuvastra
Staff Reporter
BANGKOK — A recent viral video of Chinese tourists mobbing a shrimp buffet in a Thai restaurant which prompted massive finger wagging actually took place two years ago.
The video which was held up as another example of a collective obsession with the behavior of Chinese visitors, was actually filmed in 2014 at a restaurant near Bangkok's Suvarnabhumi Airport and not Chiang Mai as claimed on social media, according to a Wednesday statement from restaurant owner King Power.
In the video circulated online as a recent incident last week, tourists are seen lustfully piling plate after plate with prawn, many of which are then left uneaten at abandoned tables.
King Power said the frenzy seen in the video at its Ramayana restaurant was brought on by a rush to catch a flight back home.
"The incident was during the tourism high season in Thailand," the statement said. "There were many Chinese tourists using the service, and some groups of customers were in a hurry to board their flight home at the airport."
The video surfaced in social media last week, attracting negative comments from Thais who accused the tourists of being greedy and wasteful.
It soon went viral and was picked up by a number of media agencies, including China's state mouthpiece People's Daily.
Related stories:
'Chinese Tourist' Filmed Kicking Chiang Mai Temple Bell
Thailand to Expand Etiquette Brief as Chinese Tourists Put Foot in it
Famous Thai Temple to Build Separate Toilets for Non-Chinese
Teeranai Charuvastra can be reached at [email protected] and @Teeranai_C.