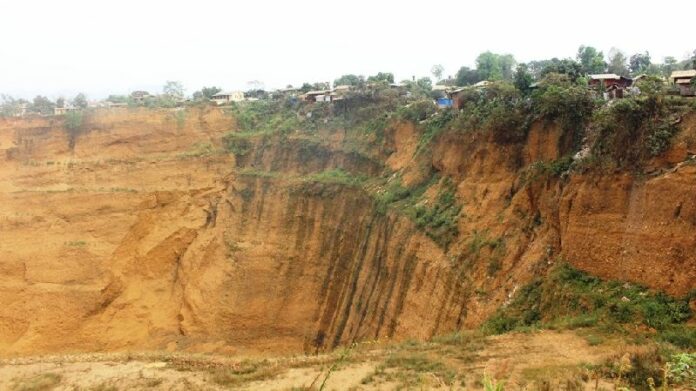 HPAKANT, Kachin State — Ywel Jer remembers a time when Saijarbon, an ethnic Kachin village perched upon a hilltop in Hpakant Township, was surrounded by mountains.
In the past 10 years, however, vast mountain areas around the village here in northern Myanmar's Kachin State have been turned into rubble by large-scale jade mining operations using dynamite and heavy machinery. The changes in the landscape now threaten Saijarbon's very existence.
"In the past, the mountains near our village were higher than us, but now they have been reduced by 400 or 500 feet," Ywel Jer said, looking out from the village where some abandoned houses are situated on the edge of a sheer 30-meter drop created by ongoing mining operations below.
"We cannot sleep well here as we fear possible landslides," the 58-year-old woman said, adding that the rainy season was a particularly perilous time for those living near the mining sites.
Local authorities, she complained, did nothing to regulate mining's impacts on the landscape, nor did they monitor the safety of the huge, unstable piles of waste the industry creates. Officials only ever asked villagers to make way for jade mining, Ywel Jer said, adding she was forced to relocate four times since 1989.
Myanmar's multi-billion dollar jade industry has come under increased scrutiny in the past year after an investigation by resource corruption watchdog Global Witness revealed some of the hidden, often army-linked holders of lucrative mining licenses. A string of deadly accidents in recent months involving labourers scavenging through mining waste has highlighted a lack of safety measures on site.
Now, local activists and communities have also begun asking for changes in the industry. They demand that authorities mitigate its heavy environmental impacts and offer communities some of the benefits.
On March 25, 10 civil society organisations from Kachin and Yangon held a press conference in Hpakant calling for a suspension of all mining activity until authorities enforce existing environmental regulations.
They ask that officials set up a commission to reveal individual company ownership, revenues of firms, and whether they adhere to rules and regulations.
Mike Davis, Global Witness' Asia Director, said, "Local people are calling for a suspension of jade mining because of its severe environmental and social impacts until reforms are put in place. We support that idea."
Dozens of migrant labourers are seen scavenging mining waste in search of jade in Hpakant Township, Kachin State. Photo: Htet Khaung Linn / Myanmar Now
NLD Pledges Reforms
The new National League for Democracy (NLD) government said this month that it has suspended the issuing of further jade mining licenses and pledged to reform the sector. It has started with improvement of safety around waste dumping, before moving on to reducing environmental impacts and eventually increasing openness about licensing and revenues.
Win Htein, director-general of the Mining Department of the new Ministry for Natural Resources and Environmental Conservation, was quoted as telling state media on May 20 that safety is an "urgent consideration for the government" and that measures are being taken on the ground.
The report said local authorities had tightened dumping restrictions for companies and attempted to move 'at-risk' workers camps to safer areas.
Minister Ohn Win told the Upper House on May 11 that experts will be invited to join a ministerial committee to draft new environmental rules for the jade industry.
Disappearing Mountains, Dangerous Waste Heaps
Lama Lataung, chairman of the Kachin National Development Foundation, estimated that in past decades as many as 50 mountains within a 30-kilometre radius of Hpakant have been reduced to rubble by miners.
Since 2005, mining companies have begun using heavy machinery to speed up jade extraction, according to a recent state media report, which said the number of migrant labourers doing dangerous scavenging through the increasing waste heaps rose through a staggering 300,000 workers in 2015.
Since November, there have been 13 landslides in Hpakant, state media said, including a Nov. 11 landslide that buried 114 labourers and a May 8 incident that killed 13.
Kai Ring, a community activist with Kachin National Development Foundation, said companies nor authorities take responsibility for managing mining tailings. "Waste heaps are not pressed together with machinery to be compact, and then landslides happen," she said, adding that dynamite explosions and heavy rainfall sometimes trigger the landslides.
Kai Ring also said huge mining trucks of large and medium-sized mining operators often pass through villages at dangerously high speeds, leading to traffic accidents that prompted community protests, most recently on April 2.
Another serious issue is pollution of water resources, Kai Ring added, noting that 12 companies mining next to Uru Creek were dumping waste directly into the creek or onto its banks.
"Flooding will probably more serious this year for the 10 villages along the creek as companies have put huge amounts of waste into it," she said, adding that according to government rules companies can only dump waste at 12 designated sites and not within 100 meters of the creek.
Large mining trucks are seen inside a deep jade mining pit in Hpakant Township, Kachin State. Photo: Htet Khaung Linn / Myanmar Now
Gems Law Revisions Increase License Duration
In January, President Thein Sein's then-outgoing government revised the 1995 Gems Law and it was passed by Parliament in February, shortly before the transfer of power to the NLD.
The revised legislation did little, however, to better regulate jade mining's environmental impacts and amendments mainly concerned lengthening the duration of mining licenses, said Khin Maung Myint, a NLD Upper House MP for Hpakant.
Previously, the maximum duration of a license was five years, but under the revisions a company with an area greater than 50 acres can now hold a 10-year license, a medium-sized firms a five-year license, and companies with less than 30 acres can obtain a three-year license.
Khin Maung Myint said a five-year license would cost an operator around USD$130,000 (4.6 million baht), adding that there are some 350 companies licensed to mine for jade, but only around 100 large firms are actively mining.
Davis, of Global Witness, said bringing transparency and reforms to the revenues and contract conditions of the jade industry – which he described as "a slush fund for powerful hard-liners" – would be a daunting task. But he urged the government to create "early momentum" by trying to include the sector in its 2016 report to the Extractive Industries Transparency Initiative.
Myanmar became a candidate for this voluntary revenue transparency scheme in 2014 and has pledged to publish annual reports on revenue earnings, but so far these have concerned oil and gas, and some mining sectors, though not jade.
Story: Htet Khaung Linn
Related stories:
Junta Orders All Gold Mines Shut Down
At Least 6 Dead in Landslide at Myanmar Jade Mine
Behind the Scenes of Myanmar's USD $31 Billion Jade Trade
110 Killed, 100 Missing in Myanmar Jade Mine Mudslide