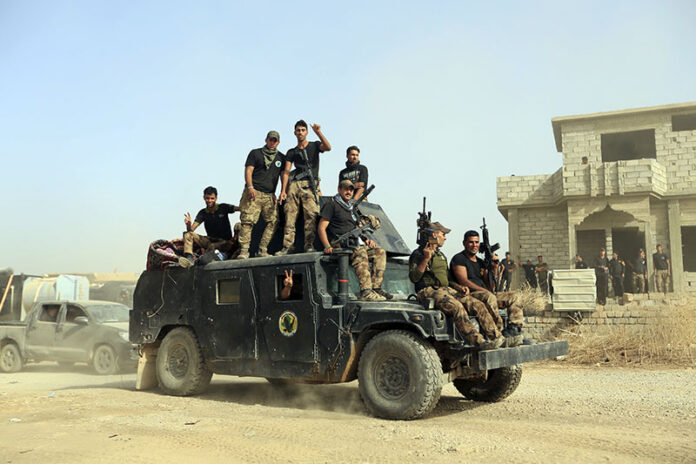 KHAZER, Iraq — Iraqi government and Kurdish forces, backed by U.S.-led coalition air and ground support, launched coordinated military operations early on Monday as the long-awaited fight to wrest the northern city of Mosul from Islamic State fighters got underway.
Convoys of Iraqi, Kurdish and U.S. forces moved east of Mosul along the front line as U.S.-led coalition airstrikes sent plumes of smokes into the air and heavy artillery rounds could be heard.
Iraqi Prime Minister Haider al-Abadi announced the start of the operations on state television, launching the country on its toughest battle since American troops left nearly five years ago.
Mosul, Iraq's second largest city, has been under IS rule for more than two years and is still home to more than a million civilians according to U.N. estimates.
"These forces that are liberating you today, they have one goal in Mosul which is to get rid of Daesh and to secure your dignity. They are there for your sake," al-Abadi said, addressing the city's residents and using the Arabic language acronym for the Islamic State group.
"God willing, we shall win," he added, flanked by military commanders.
The push to retake Mosul will be the largest military operation in Iraq since American troops left in 2011 and, if successful, the biggest blow yet to the Islamic State. Al-Abadi pledged the fight for the city would lead to the liberation of all Iraqi territory from the militants this year.
In Washington, Defense Secretary Ash Carter called the launch of the Mosul operation "a decisive moment in the campaign" to deliver a lasting defeat to ISIS.
Iraqi forces have been massing around the city in recent days, including elite special forces that are expected to lead the charge into the city, as well as Kurdish forces, Sunni tribal fighters, federal police and Shiite militia forces.
South of Mosul, Iraqi military units are based at the sprawling Qayara air base, but to the city's east, men are camped out in abandoned homes as the tens of thousands of troops massed around the city have overwhelmed the few military bases in the area.
Kurdish forces are stationed to the north and east of Mosul, a mostly Sunni city that has long been a center of insurgent activity and anti-central government sentiment after the U.S.-led invasion of Iraq in 2003. Iraqi officials have warned that the Mosul operation has been rushed before a political agreement has been set for how the city will be governed after IS.
Lt. Col. Amozhgar Taher with Iraq's Kurdish forces, also known as the peshmerga, said his men would only move to retake a cluster of mostly Christian and Shabak villages east of Mosul and would not enter the city itself due to their concern for "sectarian sensitivities."
"To eliminate the threat we must eliminate (IS) from Mosul," Taher said at a makeshift base in an abandoned house along the front line, some 30 kilometers (19 miles) east of Mosul.
Iraqi special forces Lt. Col. Ali Hussein said the Kurdish forces are leading the first push on Mosul's eastern front. His men were also anxious to move out to the front line, though he said he expects they will wait near the town of Khazer for another day or two.
Mosul fell to IS fighters during the militants' June 2014 blitz that left nearly a third of Iraq in the extremists' hands and plunged the country into its most severe crisis since the U.S.-led invasion. After seizing Mosul, IS leader Abu Bakr al-Baghdadi visited the city to declare an Islamic caliphate that at one point covered nearly a third of Iraq and Syria.
But since late last year, the militants have suffered battlefield losses in Iraq and their power in the country has largely shrunk to Mosul and small towns in the country's north and west. Mosul is about 360 kilometers northwest of the capital, Baghdad.
The operation to retake Mosul is expected to be the most complex yet for Iraq's military, which has been rebuilding from its humiliating 2014 defeat.
Lt. Gen. Stephen Townsend, commander of Combined Joint Task Force Operation Inherent Resolve, said in a statement that the operation to regain control of Mosul could take "weeks, possibly longer."
Earlier, Iraqi Brig. Gen Haider Fadhil told The Associated Press in an interview that more than 25,000 troops, including paramilitary forces made up of Sunni tribal fighters and Shiite militias, will take part in the offensive that will be launched from five directions around the city.
The role of the Shiite militias has been particularly sensitive, as Nineveh, where Mosul is located, is a majority Sunni province and Shiite militia forces have been accused of carrying out abuses against civilians in other operations in majority Sunni parts of Iraq.
Fadhil voiced concern about potential action from Turkish troops based in the region of Bashiqa, northeast of Mosul. Turkey sent troops to the area late last year to train anti-IS fighters there. But Baghdad has seen the Turkish presence as a "blatant violation" of Iraqi sovereignty and has demanded the Turkish troops withdraw, a call Ankara has ignored.
Military operations are also predicted to displace 200,000 to a million people, according to the United Nations. Just a few kilometers from the eastern front line, rows of empty camps for displaced civilians line the road, but aid groups say they only have enough space for some 100,000 people.
In Geneva, a senior U.N. official said he's "extremely concerned" for the safety of civilians in Mosul. Stephen O'Brien, the under-secretary-general for humanitarian affairs and emergency relief coordinator, said that as many as "1 million people may be forced to flee their homes in a worst-case scenario."
He warned that families are at "extreme risk" of being caught in crossfire, and that tens of thousands may end up besieged or held as human shields and thousands could be forcibly expelled.
Aleksandar Milutinovic, the Iraq country director for the International Rescue Committee, said the population of Mosul is not all supporters of IS, "they're just people who had no other opportunity or a place to go" and urged Iraqi forces to "show will and a very serious commitment to protecting civilians and ensuring their wellbeing."
In the midst of a deep financial crisis, the Iraqi government says it lacks the funds to adequately prepare for the humanitarian fallout of the Mosul fight. In some cases commanders say they are encouraging civilians to stay in their homes rather than flee.
"While we may be celebrating a military victory (after the Mosul operation is complete)," said Falah Mustafa, the foreign minister for Iraq's Kurdish region, "we don't want to have also created a humanitarian catastrophe."
Story: Adam Schreck; additional reporting Ahmed Sami, Qassim Abdul-Zahra, Geir Moulson and Vivian Salama