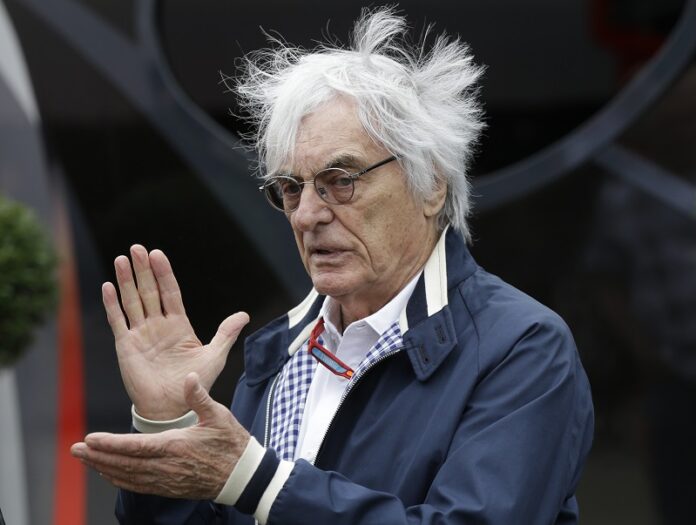 Bernie Ecclestone's reign of Formula One ended after Liberty Media officially completed its takeover of the series on Monday, and named American Chase Carey as the new chief executive.
Carey acted quickly by naming former Mercedes team principal Ross Brawn as managing director of motorsports, a move that was expected to be widely welcomed as the series prepares for rule changes it hopes will win back disgruntled fans.
It also brought the curtain down on Ecclestone's long and often controversial governance of F1.
In recent years particularly, issues were regularly raised about the top-heavy distribution of wealth in the series and fears raised about the future of famed races such as the Italian Grand Prix and the German GP – which has struggled to host races – in the face of rising track fees.
Ecclestone was criticized for overlooking historic popular races to develop new frontiers in F1 such as Abu Dhabi, Bahrain, Russia, and Azerbaijan, which held its first race last year.
F1 has been indecisive recently, with rule changes imposed and reversed, such as the double points rule on the final day of the 2014 season, and unpopular changes to qualifying that were quickly scrapped.
The overly strong influence of a handful of big teams and Ecclestone in strategy group discussions was seen by many observers as iron-fisted and undemocratic, as well as being unfair on smaller teams like cash-strapped Manor, which is battling against administration.
The takeover on Monday came five days after motor sport's governing body approved of F1 being sold to Liberty Media, a U.S. company that invests in entertainment and sports. The transaction price represents an enterprise value for F1 of $8 billion and an equity value of $4.4 billion, Liberty said in a statement.
The 86-year-old Ecclestone remains on board as an honorary chairman and will be an F1 adviser, according to Liberty.
"I'm proud of the business that I built over the last 40 years and all that I have achieved with Formula One," Ecclestone said in Liberty's statement.
As a TV executive, Carey helped to launch Fox Sports and FoxNews, and took over from Rupert Murdoch as CEO of News Corporation. Carey praised Ecclestone.
"(F1) is what it is today because of him and the talented team of executives he has led, and he will always be part of the F1 family," he said.
Last September, Liberty Media Corp., which is controlled by 75-year-old tycoon John Malone, ended years of uncertainty about the ownership of F1 when it first announced plans for a takeover. Last week, the FIA's World Motor Sport Council approved the change of control of Delta Topco, F1's holding company, from investment fund CVC Capital Partners to Liberty Media Group.
With Liberty's shareholders having approved the move, an FIA green light was the last regulatory step before the sale. Although Carey was expected to replace Ecclestone, the buyout came sooner than expected and some way ahead of the new F1 season, which starts on March 26 with the Australian GP.
Liberty's takeover was timely, with the series poised for a shakeup.
Changes such as wider tires, car design, louder engines, and more overtaking opportunities are set to make F1 more exciting again in a bid to win back a large chunk of unhappy fans amid flagging attendances at some races.
"There is an enormous opportunity to grow the sport," Liberty president Greg Maffei said. "We have every confidence that Chase, with his abilities and experience, is the right person to achieve this."
Retired world champion Nico Rosberg said the time was right for a new era.
"Bernie, mega job! But a change has been overdue," Rosberg tweeted. "Mr Carey, all the best in making our sport awesome again."
The acutely ambitious and driven Ecclestone transformed F1 into a multi-billion business with huge glitz.
He started in the 1970s primarily negotiating with circuits before taking up a position of power as the commercial rights holder in the 1990s, massively increasing the series' TV exposure.
But he overlooked social media, an area Liberty has expertise and willingness to use. In the short term, Liberty has the capacity to make some changes to the calendar – such as an extra race in the U.S. – promotion, and digital media coverage.
Other, more in-depth changes such as scheduling of race weekends, rules governing car design, and fairer distribution of revenue to teams are governed by the Concorde Agreement between the owners, the teams, and the FIA. That agreement runs through the end of 2020 so big changes could not be made before then.
As well as contracting Brawn, Carey has hired Sean Bratches – formerly of ESPN – as managing director.
Brawn has more than 40 years of experience in engineering and management, helping Ferrari win 11 world titles and seven with Williams and Bennetton. Perhaps his greatest achievement was winning the 2009 F1 title against all odds with his own BrawnGP team – the Honda F1 team he rescued and renamed – with British driver Jenson Button producing the season of his life.
Brawn, who helped develop the career of seven-time champion Michael Schumacher, then helped Mercedes develop the car that won three straight titles from 2014-16.
"I've enjoyed consulting with Liberty Media these last few months and I'm looking forward to working with Chase, Sean, and the rest of the Formula One team to help the evolution of the sport," Brawn said.
Bratches is credited as one of ESPN's most influential leaders, with over 27 years of experience, most recently as executive vice president of sales and marketing.
With the completion of the acquisition, the Liberty Media Group will shortly be renamed the Formula One Group.
Liberty Media expects the group name change and the symbol change to take place this week.
F1 will remain based in London, and Maffei will be deputy chairman of the board of F1.
Ecclestone is expected to attend some races this season.
Story: Jerome Pugmire