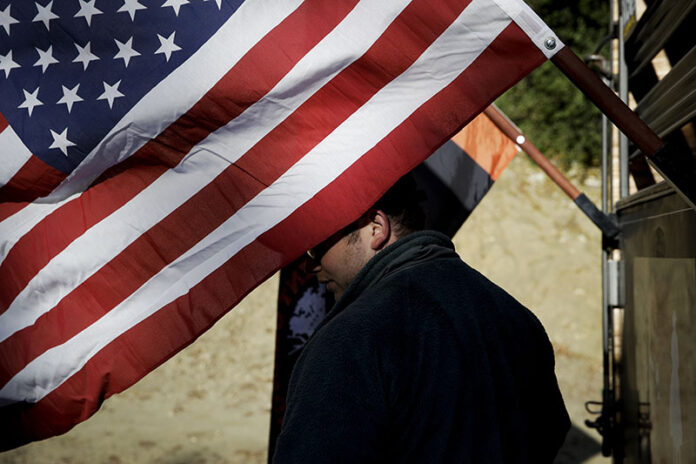 SANTA CLARITA, California — The two things Colt Romberger and his father had most in common, the ones that made them best friends as well as father and son, were a deep affection for horses and an equally deep pride in having served their country in times of war.
So when Cliff Romberger, a Vietnam War veteran and onetime wrangler of horses on Hollywood film sets, died in 2015 of a brain disease doctors attributed to his exposure to the chemical defoliant Agent Orange, his son knew there was but one way to honor him: He would saddle up his horse and ride it from the Pacific Ocean to the Vietnam War Memorial in Washington.
On Monday the compact, muscular 32-year-old Iraq war veteran will begin that journey through big-city streets, across desert sand and over mountain ranges and prairies, aboard a handsome gray-and-black 4-year-old quarter horse named Gus.
Along the way he hopes to accomplish several things: raise money for veterans causes through a nonprofit foundation he's established, tell the public about the devastating, deadly effect the use of Agent Orange is having on thousands of aging bodies of Vietnam veterans and, with stops at town halls across the country, let those veterans know they have not been forgotten.
"I've spoken to so many Vietnam vets, and they've emailed me. Sometimes it breaks my heart hearing their stories," he says in a voice momentarily choked with emotion.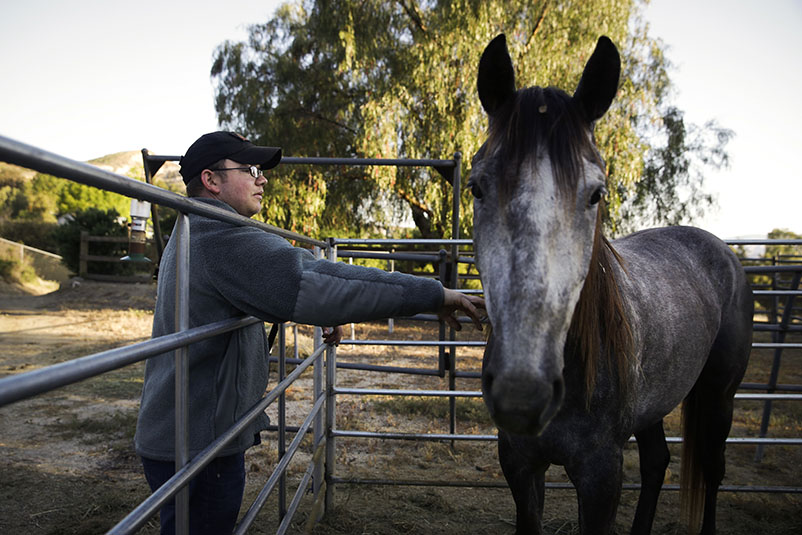 There was the guy in Norfolk, Virginia, who heard of the ride and sent him $200. When Romberger called to thank him he learned the man was dying of a form of leukemia he believed had been caused by Agent Orange but that had not yet been classified as such because there hadn't been enough cases for the Department of Veterans Affairs to study. He was hoping the government could make that connection in time to add his wife to his survivor's benefits.
"And then he passed away, and he never got the approval," Romberger says quietly as he sits on the patio of a friend's ranch in a semi-rural section of the picturesque suburb of Santa Clarita, 35 miles (56 kilometers) north of Los Angeles. Gus is in a pen nearby, playfully grabbing at a large log he's turned into a toy. They've just finished a lengthy endurance ride through surrounding canyons.
Colt Romberger has been preparing for this ride for nearly two years, and like all good cowboys, the reserve Pasadena police officer, Air Force reserve intelligence analyst and part-time actor will bring along a sidekick. It's his late father's best friend.
"He said, 'Kenny, I'm going to do this. You want to go?' I said, 'You bet,' so I told his mom I'll make sure he's taken care of, and so here we are," said Kenny Reichel, who is putting his business restoring antique cars on hold for the six months the ride is expected to take.
Reichel will drive a truck carrying supplies and pulling a horse trailer while scouting for places man and horse might bed down for the night.
It will pretty much be Gus who sets the pace, Romberger said, adding when the horse gets tired they'll stop. He estimates they can average 25 miles (40 kilometers) a day.
"The potential of getting injured on this thing is high," he acknowledges. "When you're riding on city streets, a horse can spook and get hit by a truck."
To prepare, he's been riding Gus through some of the busy streets of Los Angeles and Pasadena.
Recently he dropped by the Pasadena Police Department, which has granted him a leave of duty for the ride.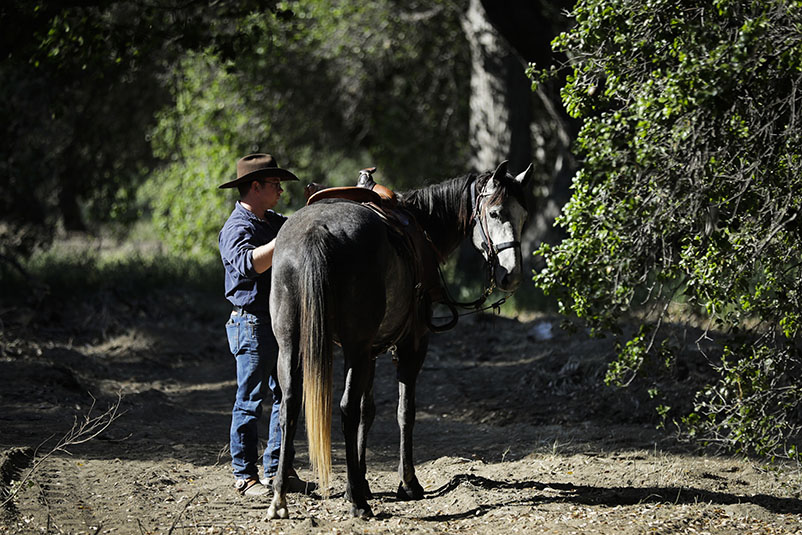 "I wish I had taken a picture," Police Chief Phillip Sanchez says with a chuckle. "Picture the classic Gary Cooper 'High Noon,' right? He's got this brown Stetson hat on, he's wearing a pair of 501 button-down Levi jeans, a pair of brown boots that have probably seen more cow dung than I want to imagine, and spurs of all things."
The department "couldn't be more proud of him," Sanchez adds, and will be following his ride on social media.
Veterans Affairs has recognized more than a dozen diseases it presumes to be connected with exposure to Agent Orange, the defoliant sprayed on the Vietnam countryside to eliminate ground cover hiding enemy troops. After learning how toxic it was, the U.S. banned its use in 1971.
Romberger's father, stationed with the Air Force in Vietnam in 1970 and '71, knew he was exposed but had no idea of the debilitating effects it would cause.
After that exposure, Romberger says, it's likely nothing would have prevented his father from contracting the brain-wasting disease that killed him. But, he adds, his father could have been diagnosed years earlier, providing time to better plan his future and make his final years more comfortable.
That's what Romberger wants to accomplish for others.
"I'm hoping this ride raises the national awareness, becomes the squeaky wheel to get things rolling for these guys," he says. "And I hope it becomes like an educational tool that says, 'Hey, there is help out there, there are people who care.'"
Story: John Rogers