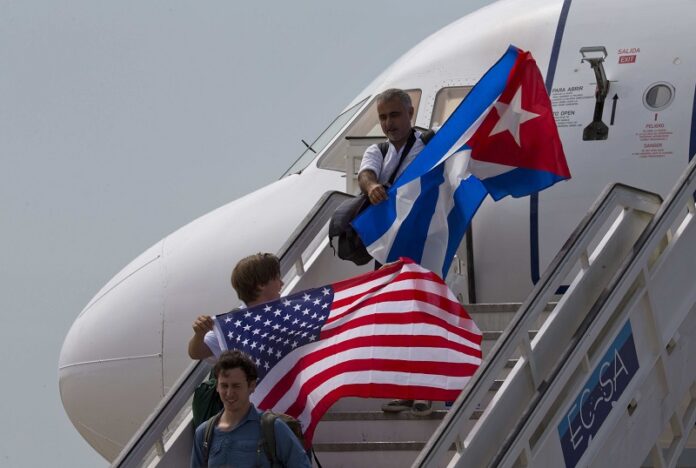 MARIEL, Cuba — Church bells rang out and Cubans strung American flags from their windows when President Barack Obama announced in December 2014 that the U.S. would stop trying to push Cuba toward collapse.
Obama's new policy of engagement unleashed a flood of American visitors, pumping cash into Cuba's nascent private sector, even as the centrally planned economy hit its first recession in nearly a quarter century. Many Cubans did better. But most lives remained a grinding daily struggle. Jubilation faded to resignation.
President Donald Trump on Friday is expected to give America's Cuba policy its second major change in three years during an appearance in Miami, reviving the Cold War goal of starving Cuba's communist system of cash. Stopping short of a complete turnabout, Trump will announce a revised policy aimed at stopping the flow of U.S. dollars to the country's military and security services while maintaining diplomatic relations and allowing U.S. airlines and cruise ships to continue service to the island, White House officials said Thursday.
Ordinary Cubans have been bracing for the worst. Across the island, people of all ages, professions and political beliefs expect rising tensions and fewer American visitors. And while some Cuban exiles in South Florida are celebrating, others question the wisdom of undoing a policy that had started showing results by increasing the number of Cubans economically independent of the government.
In 1980, some 125,000 Cubans fled the port of Mariel on boats to the U.S. in the largest single exodus of refugees in modern Cuban history. Today, the city 30 miles west of Havana is home to the county's main cargo facility, where freighters unload containers of supplies for the country's booming tourism industry.
A few miles from the gates of the port, 42-year-old Yosvani Reinoso works as a self-employed locksmith from a stand on Mariel's main square. He hasn't seen his life improve much since the U.S. and Cuba re-established friendly relations, but the restart of commercial flights after a half-century gave his wife hope she could afford to visit her 19-year-old son who emigrated to the U.S. two years ago.
"The best thing that can happen for the two countries is for all of these problems to end, for everything to be normal," Reinoso said.
In Havana, 53-year-old hairdresser Dioslans Castillo said Obama's 2016 visit to Havana and his calls for Cubans to seize control of their economic destiny had inspired him to try to open a bar with gourmet food and cultural activities for LGBT Cubans.
"Obama incentivized entrepreneurship," Castillo said. "His visit influenced society because the people saw the so-called opening, despite it happening in slow steps compared to the rhetoric. But with Trump, it's all going to crash."
Speaking from Miami, where he was working with anti-Castro Cuban-American groups ahead of Friday's announcement, Cuban dissident Antonio Rodiles said he supports Trump's plans and many ordinary Cubans do as well.
"Many, many people are telling me that we have to squeeze the government once and for all," Rodiles said. "And many people I meet in the street have much tougher opinions than mine."
Also in Miami, Roberto Pique, who left Cuba at age 15 in 1961, said that even though he wanted the Castro family to leave power, Obama's actions had allowed Cubans to have more access to information. The number of Cuban-Americans traveling to Cuba has increased and the government has opened hundreds of public Wi-Fi spots since the warming, greatly expanding internet access.
"Obama was a very wise man. He had something in mind, like playing chess with those people, the communists over there," Pique said. "The Cubans have more access to what's happening in the world because there are so many people traveling over there, their families," added the retired juvenile probation officer. "I don't think anything that (Trump) will do will help us get rid of those communists in Cuba. They have survived worse, unfortunately."
Even opponents of Obama's policy said they didn't expect much from Trump's proposal.
"He will make the same promises that the last 10 presidents have made Cuban-Americans here in Miami and nothing happens," said Raul Masvidal, 75, a financial adviser who arrived in the U.S. in 1960 from the eastern Cuban city of Camaguey. "Outside the Bay of Pigs invasion in 1961 when you really look back to the last 50 years, nothing has been done. Castro is still there. Different first name."
Standing in front of a primary school in Mariel, 56-year-old teacher Juan Manuel Lemus said he had hoped Obama's opening would lead Cuban-Americans to invest in businesses in his decaying industrial hometown, the same way many had poured money into tourist centers like Havana.
"There are a lot of Americans and Cuban-Americans who have family here and more investment would be good for us," he said.
But his immediate worry is much more personal.
"I have a son, my oldest, in the United States," Lemus said. "I'm afraid, really, about what happens if Trump cuts back relations. He's in Tampa, painting houses, and the more open things are between the U.S. and Cuba, the better."
Story: Michael Weissenstein, Andrea Rodriguez, Adriana Gomez Licon