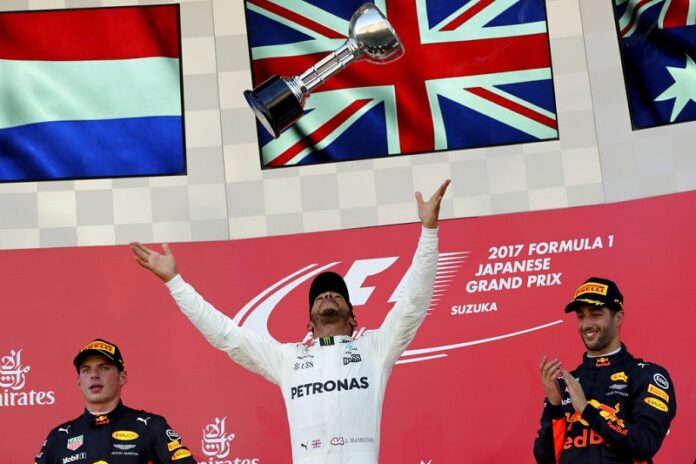 SUZUKA, Japan — Championship leader Lewis Hamilton won the Japanese Grand Prix on Sunday, taking a major step toward winning his third Formula One title.
The Mercedes driver crossed the finish line 1.2 seconds ahead of Malaysia GP winner Max Verstappen to claim his eighth F1 victory of the season and third at the Suzuka circuit. Verstappen's Red Bull teammate Daniel Ricciardo was third.
Hamilton moved 59 points clear of title rival Sebastian Vettel with four races left. Vettel was forced to retire on the third lap when his Ferrari lost power.
Starting from pole position, Hamilton held the lead through the first turn.
With Vettel out of the race, it quickly became a showdown between Hamilton and Max Verstappen. Hamilton built up a four-second lead over the Red Bull driver through the first 15 laps and made his only pit stop on the 23rd lap.
Verstappen pitted a lap earlier than Hamilton, then produced some good laps to cut the lead to 1.7 seconds midway through the race.
Verstappen closed to within a second at the start of the final lap but traffic allowed Hamilton to escape once more and seal the narrow win.
Vettel's early retirement put a serious dent in his fading hopes of coming back to win the championship.
Sauber driver Marcus Ericsson also retired early when he ran across the gravel and dived nose-first into the barriers.
Carlos Sainz lost control of his Toro Rosso and spun across the gravel into the wall on the outside and retired after the second lap.
Mercedes also increased its lead in the Constructors' standings to 145 points over Ferrari. Red Bull is in third place with 303 points.
The next race is Oct. 22 in the United States.
Story: Jim Armstrong