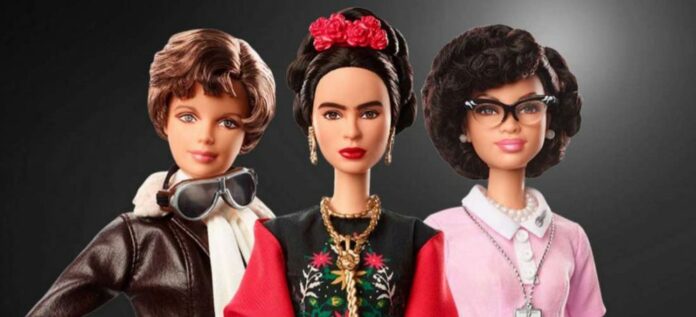 A trailblazing film director. A snowboarding champion. A pioneering mathematician for NASA. An iconic artist. Barbie is marking International Women's Day by honoring some of the inspiring women of the present and the past.
The brand announced on Tuesday — a day before International Women's day — that it has chosen 17 modern-day and historic role models to honor with a doll in their likeness.
The 14 new honorees of the brand's "Shero" program are: Patty Jenkins, director of "Wonder Woman;" Chloe Kim, who won an Olympic gold medal in snowboarding last month at age 17; Bindi Irwin, the Australian conservationist; British boxing champion Nicola Adams; Turkish windsurfing champion Cagla Kubat; French Michelin-starred chef Helene Darroze; Chinese volleyball champion Hui Ruoqi; German fashion designer Leyla Piedayesh; Mexican golfer Lorena Ochoa; Polish author and journalist Martyna Wojciechowska; Italian soccer player Sara Gama; Chinese actress and philanthropist Xiaotong Guan; Chinese ballerina Yuan Yuan Tan; and Vicky Martin Berrocal, Spanish designer and entrepreneur.
The brand's new "Inspiring Women" series is honoring pioneering aviator Amelia Earhart; celebrated artist Frida Kahlo; and Katherine Johnson, the NASA mathematician who broke race and gender barriers. Johnson, who is now 99, was featured in the recent movie "Hidden Figures." These dolls come with educational information about the contributions each has made to society.