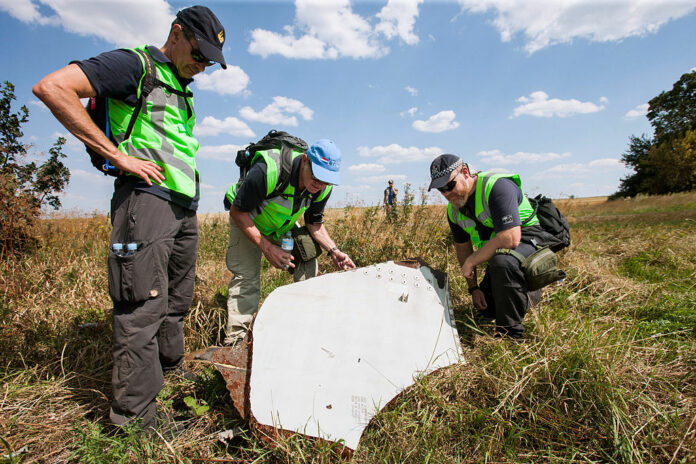 CANBERRA, Australia — Australia's former foreign minister on Tuesday described the shooting down of a Malaysia Airlines flight over Ukraine in 2014 as the most emotional time of her life.
Julie Bishop was reflecting on her five years as Australia's first woman foreign minister after she quit the Cabinet following an unsuccessful bid last week to become prime minister.
Most of new Prime Minister Scott Morrison's Cabinet was sworn in on Tuesday, including new Foreign Minister Marise Payne.
Bishop said she remained in contact with the families of the 38 Australian citizens and residents who were among the 298 people killed when a missile brought down Flight 17 on July 17, 2014.
"I don't know that it was a defining moment, but it was the most emotional moment of my life," Bishop told reporters.
"I want to ensure that the people for whom we fought do get justice. I have no doubt that Marise Payne and the highly professional team at the Department of Foreign Affairs and Trade will continue to fight for justice," she added.
In May, a day after international prosecutors said they had unequivocal evidence of Russian involvement in the flight's downing, Australia and the Netherlands announced they were holding Moscow legally responsible for its role in the missile attack.
The move put further strain on already tense relations between Russia and the West and opened a new legal front in the long-running process of apportioning blame for the missile strike.
A Dutch-led international team of investigators said they had strong evidence that the Buk missile system that brought down the Amsterdam to Kuala Lumpur flight came from a Russia-based military unit, the 53rd anti-aircraft missile brigade based in the Russian city of Kursk. It was the most explicit link between Moscow and the downing of the flight published by the investigators.
Bishop at the time called for international support for the Dutch-Australian legal initiative.
Russia denies involvement in the downing of the Boeing 777 that was flying 33,000 feet (about 10,000 meters) over war-ravaged eastern Ukraine when it was torn apart by a Buk missile fired from territory controlled by pro-Russian rebels.
Story: Rod McGuirk